SaaS Forward Multiples See Correction Amid Uncertainty In Public Markets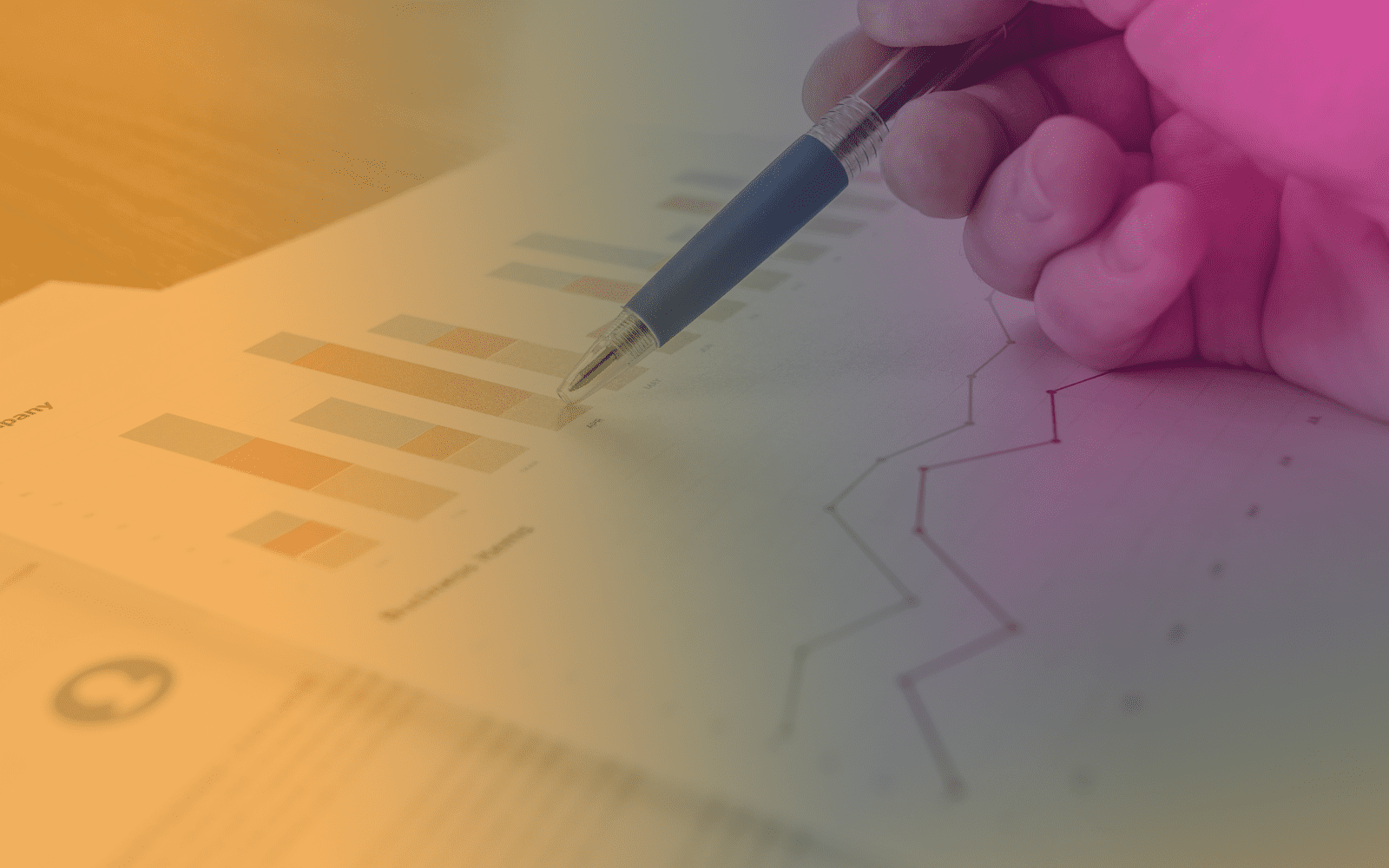 Although start-ups and scale-ups are only considered such as long as they are private companies, the public markets can provide useful metrics and benchmark that help us assess, value and understand companies in the private market.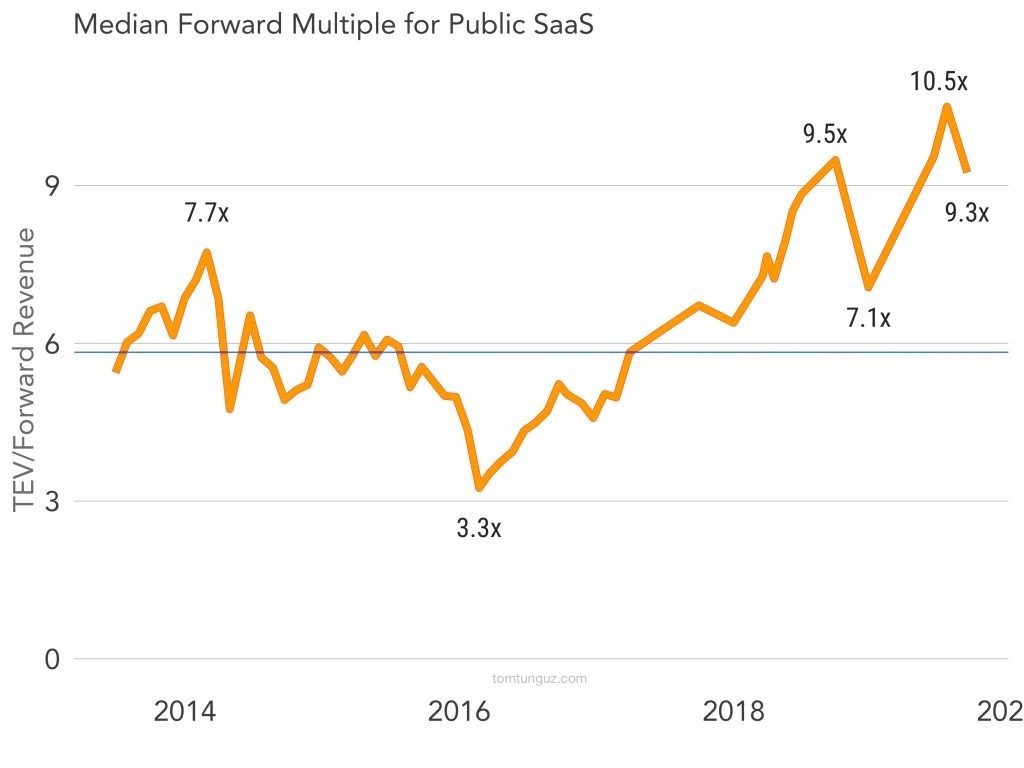 As you might have heard, though, public markets are currently facing several challenges, some big – like a prolonged trade war between the world's two largest economies – some small, like a delayed IPO from one of the most highly valued start-ups out there.
SaaS companies took a major hit as a result, as many software and tech companies that went public this year largely underperformed and are currently trading under their IPO price.
Last week, SaaS stocks fell by about 18% on average. The chart above shows the most recent Enterprise Value to Forward Multiple for a selection of 25 next-generation software companies. The "Enterprise Value to Forward Multiple" is the ratio between the market cap of a public company and the forecasted revenue for the next 12 months.
The orange line is the value and the blue line is the median over the same time frame.
As of September 13th, the median forward multiple was 9.3x. A 11% drop from its previous high of 10.5x. While this is not a massive drop, and multiples are still over twice what they were just 3-4 years ago, it is important because a 10x multiple had started to become the norm for valuing public and private SaaS companies. The drop signals a change in a "milestone" value that had started to be quoted as the standard and could therefore lead to a wider change in the way we value early stage SaaS businesses.
Looking at the 25 selected companies, it's clear that the drop in multiples for the past three months is not isolated to an unlucky few: only four companies have seen multiples increase. But zooming out to the last 12 months, in the chart below, we are presented a much more balanced picture, even though the median drop in multiples is still 10%.
In the broader scope of things, what this seems to be saying is that a "hype" around public SaaS companies – or tech companies going public – has built up until Spring 2019, until it was apparent that these companies could not live up to the expectations, and public sentiment plummeted. This sharp turn of events curiously matches a streak of unsuccessful tech IPOs which includes Uber, Lyft and Pinterest, three very high-profile case studies.
Another trend identified by Tomasz Tunguz reinforces this hypothesis: the drop in Forward Multiple is positively correlated to the Revenue Growth rate of the company.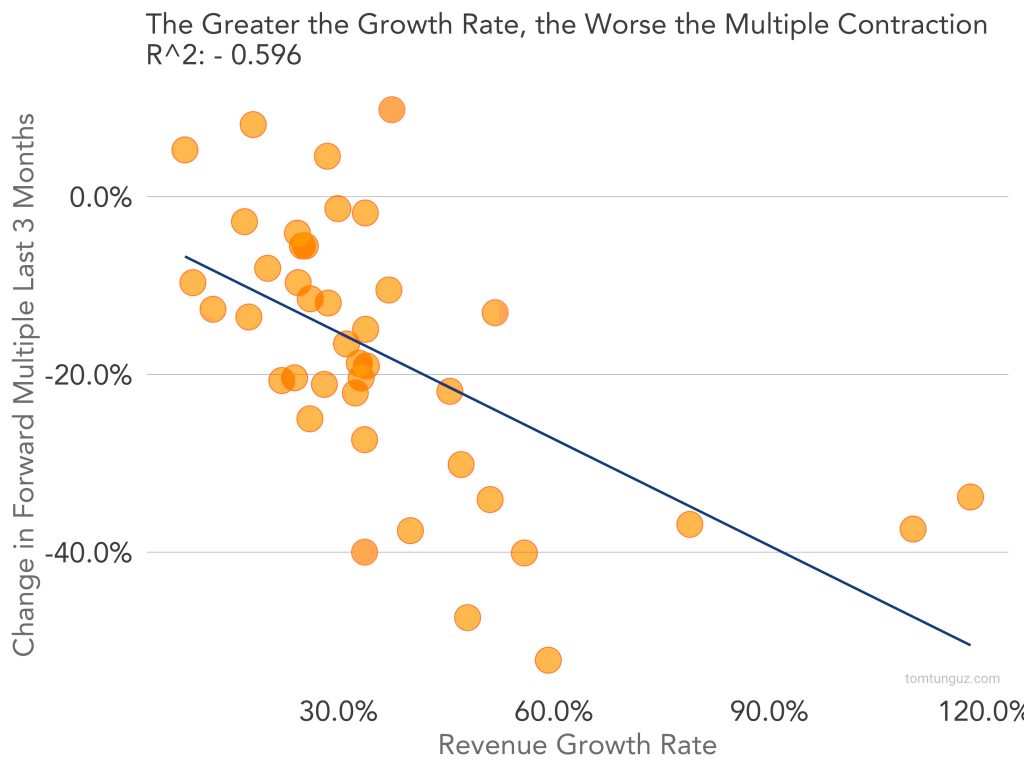 This reflects the growing skepticism from public investors, which seem to value growth less and less, preferring companies with more conservative projections which tend to burn less cash and seem like safer options.
In the words of Tunguz: "We have seen these kinds of dips in the past. The worst of them was in February 2016 when multiples fell by approximately 60%. This correction, at least so far, is much milder. It is reminiscent of the correction in December 2018 – and smaller so far."
While it is doubtless that software companies are still being valued at one of the highest forward multiples ever, a relatively small correction like this can actually be beneficial to both companies and investors in the private sector. Resizing the expectations of high-growth companies allows a lower rate of companies being overvalued and overfunded, allowing for more organic growth and eventually reducing failure rate.
The information available on this page is of a general nature and is not intended to provide specific advice to any individuals or entities. We work hard to ensure this information is accurate at the time of publishing, although there is no guarantee that such information is accurate at the time you read this. We recommend individuals and companies seek professional advice on their circumstances and matters.