SaaS M&A volumes on course for second-highest total in 10 years
M&A activity in the SaaS market is on course for another bumper year in 2023. That's according to advisory firm Software Equity Group (SEG).
SEG said that aggregate M&A volumes across the software industry (SaaS, on-premise license models, and internet companies) "has seen strong momentum in recent quarters." It reported a total of 897 deals in the second quarter, up 5% from the 855 transacted in the prior three months.
While activity remained 12% lower than those reported during the "extremely active market" of late 2021 and early 2022, volumes continued to rebound from the two-and-a-half-year troughs reported in the final quarter of last year, SEG said.
Deal activity remained strong in the SaaS sector in quarter two, the firm noted, with a total of 538 deals being completed. The advisory firm noted that "although deal volume… experienced a 5% decrease over the prior quarter, SaaS M&A is on pace for the second-highest annual total in the last ten years."

2Q23 Quarterly SaaS Report, SEG
SEG said that "software deal activity for the first half of 2023 exceeded all prior years except 2022, which was a record-breaking year." It added that the 192 SaaS M&A deals completed in May was also the highest number for 10 months.
The research showed that "B2B SaaS companies continue to be highly sought-after acquisition targets," SEG commented, "as long-term factors such as the need for competitive differentiation via M&A and continued adoption of modern technology to optimize business processes, have catalysed deal flow."
SaaS M&A Activity Remains Strong Among Verticals
Vertically focused SaaS businesses made up 46% of M&A deals in the second quarter, SEG said. That was down slightly from the record-breaking 49% that was printed in quarter one.
The firm commented that "businesses serving targeted, vertical end-markets are a coveted asset sub-class within SaaS due to the tailored expertise and workflows built into the applications to solve industry-specific challenges."
Company digitalisation "is becoming more of a 'need-to-have' than a 'nice-to-have'" in many sectors, SEG said, as firms look to boost efficiency and competitiveness. It added that vertically focused companies can provide benefits in defined markets that horizontal solutions may not.
M&A activity was especially strong in the financial services sector, the research showed. This is being driven "by the expanding need for software-enabled data and analytics functionality to comply with regulations and improve risk mitigation," the firm said.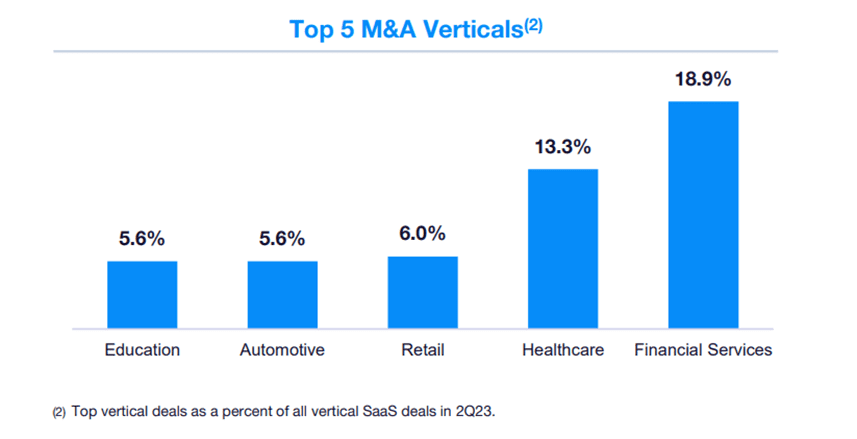 2Q23 Quarterly SaaS Report, SEG
In terms of horizontally focused SaaS businesses, M&A volumes were highest in the Human Capital Management, sales and marketing, and security. These accounted for 17%, 16% and 12% of volumes respectively.
Revenue Multiples Continue Falling
Whilst volumes have remained robust in recent months, the average enterprise value to trailing twelve months (EV/TTM) revenue multiple for M&A has continued to decline, SEG said.
This dipped to 5.6 times between April and June from 5.9 times in quarter one. It was also down significantly from 7.6 times in the corresponding 2022 quarter.
2Q23 Quarterly SaaS Report, SEG
SEG also said that median EV/TTM multiples for private SaaS businesses have continued falling in recent months. This is in stark contrast with publicly traded SaaS businesses where multiples "are recovering nicely," the firm said
It noted that "we have historically have seen the private M&A markets lag the public markets by a matter of months." The median EV/TTM multiple for publicly traded SaaS companies rose to 6 times in quarter two from 5.8 times in the first quarter.
Yet despite that falling median multiple in the private market, SEG "continues to see exceptional outcomes being commanded primarily from businesses exhibiting top-tier KPIs."
The company added that "premium multiples are also consistently rewarded to businesses serving durable customer bases with strong product differentiation and a competitive moat."
The M&A advisors said that the delta between the average and median multiples during quarter two likely reflects valuation compression in the M&A market for underperforming firms, or those engaged in dealmaking out of necessity.
PE Buyers Drive The Market Again
SEG said that private equity (PE) investors pushed M&A SaaS volumes higher in quarter two, continuing the growing interest amongst these types of buyers on the SaaS scene.
PE investors made up 61.3% of deals between April and June, up from just 48% five years earlier.
2Q23 Quarterly SaaS Report, SEG
According to SEG, "SaaS remains highly sought after by PE buyers for the innate ability to scale revenues in a capital-efficient manner while relying on predictable recurring revenue models to generate durable financial performance."
It added that record amounts of dry power held by PE firms, combined with the stunted valuations of many publicly traded strategics, have further boosted PE investors' share of the M&A market.
If you would like to learn more about B2B SaaS Valuations, please read our recent update.
The information available on this page is of a general nature and is not intended to provide specific advice to any individuals or entities. We work hard to ensure this information is accurate at the time of publishing, although there is no guarantee that such information is accurate at the time you read this. We recommend individuals and companies seek professional advice on their circumstances and matters.