Thinking of EIS or SEIS? View some figures that will help!
Enterprise Investment Scheme (EIS) and Seed Enterprise Investment Scheme (SEIS) are government-approved schemes that encourage investment into early-stage, unlisted companies and help start-ups to secure the needed funding easier. Important to note, that neither EIS nor SEIS scheme is a source of venture capital but incentives in a form of tax relief to investors who buy shares in the qualifying businesses.
Whilst being similar in the way these schemes work, the are some major differences. The key difference is that SEIS is targeted at start-ups and very early-stage companies, while EIS can be used by larger and more mature companies although these are still relatively small and young. Find out more about who is eligible in our other blog Is your company eligible for EIS?
National Statistics published figures for 2022 which provide information on the number of companies raising funds, the geographical breakdown of EIS and SEIS companies, and the amounts raised through the EIS and SEIS among the other insights. For more information regarding statistics please visit Gov.uk website. Read our full blog and learn more about the potential behind each of them.
Enterprise Investment Scheme (EIS)
In the 2020/2021 tax year, 3,755 companies raised a total of £1,658 million of funds under the EIS scheme. In 2019/2020, funding has decreased by 12% and 4,165 companies raised £1,890 million.
During the Covid-19 pandemic, the EIS investment across the first 3 quarters of 2020/2021 remained below the level seen across the same quarters previously in the 2019/2020 year. However, in the last quarter of the 2020/2021 tax year, EIS investment increased above the last quarter of 2019/2020.
Approximately £358 million of investment was raised by 1,370 new EIS companies in 2020/2021. Companies from the Information and Communication sector accounted for £571 million of investment which is 34% of overall EIS investment.
During the same period, companies registered in London and the South East accounted for the largest sum of investment, raising £1,078 million which accounts for 65% of all EIS investments.
In 2021/2022, 3,455 Assurance Assurance Requests applications for EIS were received and 2,510 (73%) have been approved to this day. The number of applications has increased from the previous tax year with 3,080 applications being received and 2,380 of them (77%) approved.
Seed Enterprise Investment Scheme (SEIS)
In the 2020/2021 tax year, a total of 2,065 companies raised £175 million of funds under the SEIS scheme. Funding has increased by 4% compared with the 2019/2020 period during which 2,070 companies raised £169 million. Around 1,660 of the companies were raising funds under the SEIS scheme for the first time, representing £154 million of investment.
Similarly to EIS, companies from the Information and Communication sector accounted for the largest amount raised – £72 million which is 41% of all SEIS investment. Companies in London and the South East as well accounted for the largest proportion of investment with £120 million raised amounting to 68% of SEIS investment in 2020/2021.
In the 2021/2022 period, 2,750 Assurance Assurance Requests applications for SEIS were received and 1,970 (72%) have been approved. The number has decreased from 2020/2021 when 2,780 applications were received and 2,245 of them were approved (81%).
EIS historical data
The number of companies raising money and the level of investment reveal a similar trend since the very beginning of this scheme. This trend could be impacted by historically low-interest rates as well as increased promotion and involvement of fund managers.
Growthdeck, a private equity investment firm, found that the total investment through the EIS has reached £24bn since it was launched in 1993. It also revealed that 32,960 firms have raised money through EIS since its introduction and almost 1.9 million individual investments have been made through the scheme.
The increase from £2 million to £5 million in the annual EIS investment limit for companies from 2012 attracted a significant amount of investment. The funds raised almost doubled in the tax years 2013 to 2015. Despite some measures and limits introduced in upcoming years, investment in the EIS continued to increase up to 2018.
The new risk-to-capital condition was introduced in 2018 to remove investment arrangements based on capital preservation and ensure that the EIS and other tax-advantaged venture capital schemes are focused on investing in early-stage companies with the potential to grow and develop in the longer term. Here we see a small decrease in the EIS investment compared to the previous year yet the evidence suggests that this might be the result of a newly introduced condition.
In 2018, knowledge-intensive companies' rules were extended, firstly introduced back in 2015. Companies that qualify as knowledge-intensive at the time of share issue can make use of increased annual and lifetime funding limits, £10 million and £20 million respectively, and can receive their first EIS or other risk finance investment up to 10 years from the first commercial sale, instead of the regular 7 years limit. These limits increase and the focus on the growth of the risk-to-capital measure are expected to encourage more investment in innovative businesses in the future.
The Covid-19 pandemic has certainly impacted investment by a slight decrease through the first 3 quarters of the tax year 2020/2021. Despite that, the funding raised above pre-pandemic levels in the last quarter of 2020/2021. In 2020/2021, there also was a decrease in the companies raising funds under the EIS dropping to 10%, with the amount raised by EIS companies also dropping by 12% compared to the previous year.
New EIS investment
The investment into new companies compared with companies raising further funds declined over the period with exception of 2011/2012 and 2014/2015. Those years are also marked with several positive changes to the scheme regarding investment in renewable energy and then exclusion of it.
In 2018/2019 we can see a steady drop in new companies that raised funds with only 28% of their funding raised by companies using EIS for the first time. The trend also continued in 2020/20021 with a 22% drop. This is likely due to the new risk-to-capital condition which added further restrictions on the qualification of investment under the EIS. The restrictions were introduced to ensure that investment under the scheme is genuinely at risk and is made to provide long-term growth and development of the company's trade. The low-risk and limited growth investment arrangements targeted by this condition typically involved the creation of new companies raising funds for the first time.
It was expected that some amount of that investment will be reinvested elsewhere, and with the new incentives to invest in knowledge-intensive companies, this has resulted in increased investment there.
EIS investment size per company
The number of companies raising funds under the EIS by investment size differs from the distribution of the amount of funds raised by the size of the investment. In 2020/2021, the highest number of companies that raised funds was in Pre-Seed stage (<£300k), followed by Seed (£200k-2000k) and Series A (£2000+). However, the highest amount of funds raised was in Series A stage, followed by Seed and Pre-Seed stage.
The risk-to-capital condition likely has affected these higher investment categories in particular. From 2012/2013, the annual investment limit has been £5 million. From 2018/2019 it has been increased to £10 million for KICs.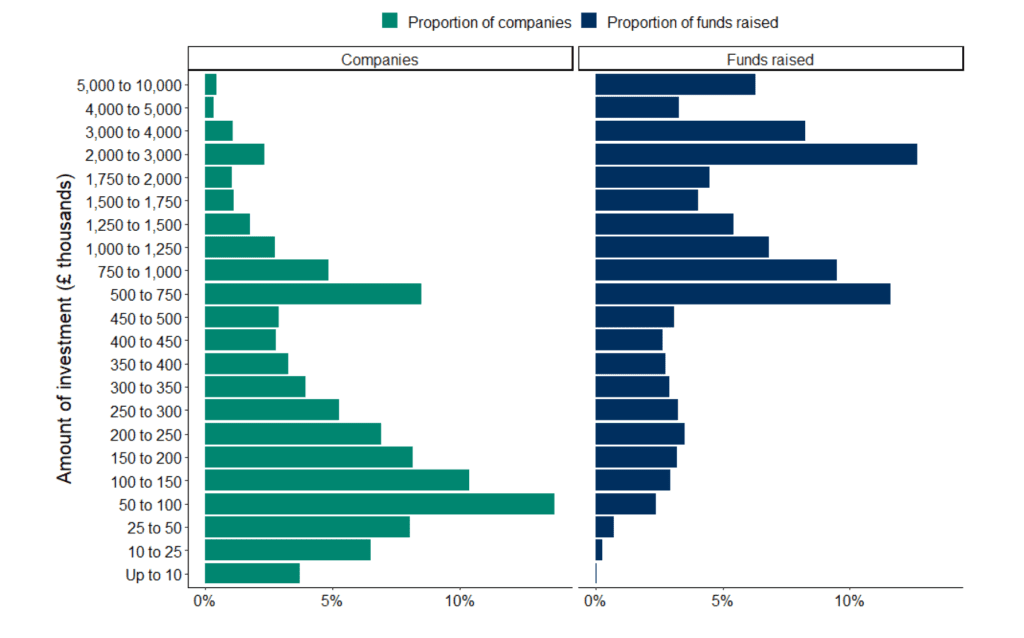 EIS and investment per region
The amount of investment in companies with a registered office in London and the South East was 65% in the 2020/2021 tax year which is more than double that in any other area. The figure is similar to the recent years' numbers that show a trend of more investment being located and investing in these two regions.
If you want to know more about EIS/SEIS or apply for either, our talented team of adviser are more than happy to help you out. Request a call and we will be in touch.
We're excited to be among the finalists in EISA Awards 2022 as the best EIS/SEIS Tax Adviser
The information available on this page is of a general nature and is not intended to provide specific advice to any individuals or entities. We work hard to ensure this information is accurate at the time of publishing, although there is no guarantee that such information is accurate at the time you read this. We recommend individuals and companies seek professional advice on their circumstances and matters.