How 2020 Impacted Healthcare Investment Trends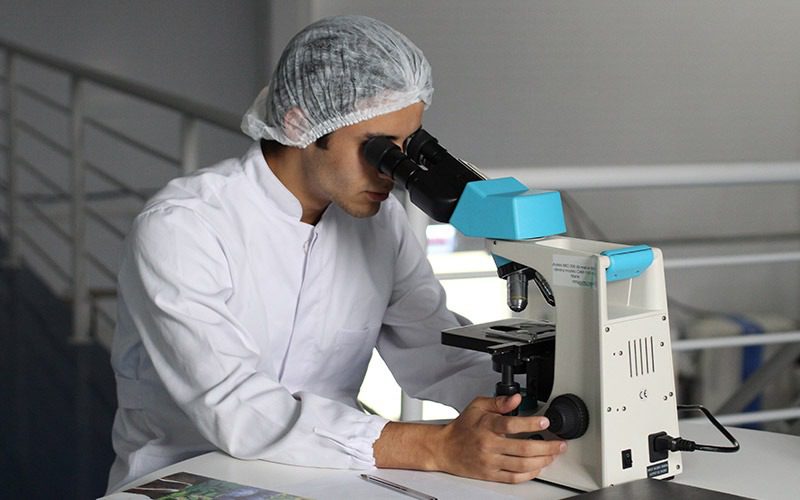 Healthcare has been in the spotlight for the past few months:
On one side the coronavirus emergency stress-tested the healthcare infrastructures of most countries, accelerating the adoption of digital health solutions and telehealth platforms.
On the other, the emergency proved how much our society relies on agile development of diagnostic kits and new therapies to sustain itself.
CB Insights recorded the investment trends of the 25 Top VCs worldwide, and used data from the first few months of 2020 to predict how they will be affected.
In this report, we present their five main findings.
1. Healthcare Investment Could Increase To A Record High In 2020
Source: CB Insights
Following a wider trend in start-up funding, Top 25 VCs participated in 186 deals in 2018, hitting a peak investment value of $10.8bn. The number of investment dropped 17% in 2019, while investment amount fell 21%.
However, data from the first few months of 2020 hint at a major comeback. As of 29 April 2020, Top 25 VCs invested $4.2bn across 59 deals, which – at this rate – would result in a record year for Healthcare funding.
Although the Top 25 group does not completely reflect the whole market's behaviour, this is a strong signal that the pandemic triggered significant deployment of capital towards Healthcare start-ups.
Additionally, in 2019 there were 90 Healthcare exits backed by Top 25 VCs, which could mean that these investors are ready to back earlier-stage ventures to replenish their portfolios.
2. Biopharmaceutical Companies Consistently Attract Most Of The Top 25 VC Investment
Source: CB Insights
Companies in the biopharmaceutical sector attracted 55% of investment in 2019, more than all other sectors combined.
It must be noted that CB Insights included 'small molecules' therapeutic solutions within the biopharmaceutical category, although these are synthesised in a lab rather than extracted from living organisms.
Among biopharmaceuticals, small molecule therapeutics captured around half of the investment amount, as synthesised drugs are less capital-intensive. However, they also face fiercer competition and get approved less often than other categories.
In fact, new drug classes – in particular nucleic acid-based therapeutics (think DNA) – have been gaining momentum in the past two years, jumping 78% in number of deals between 2018 and 2019.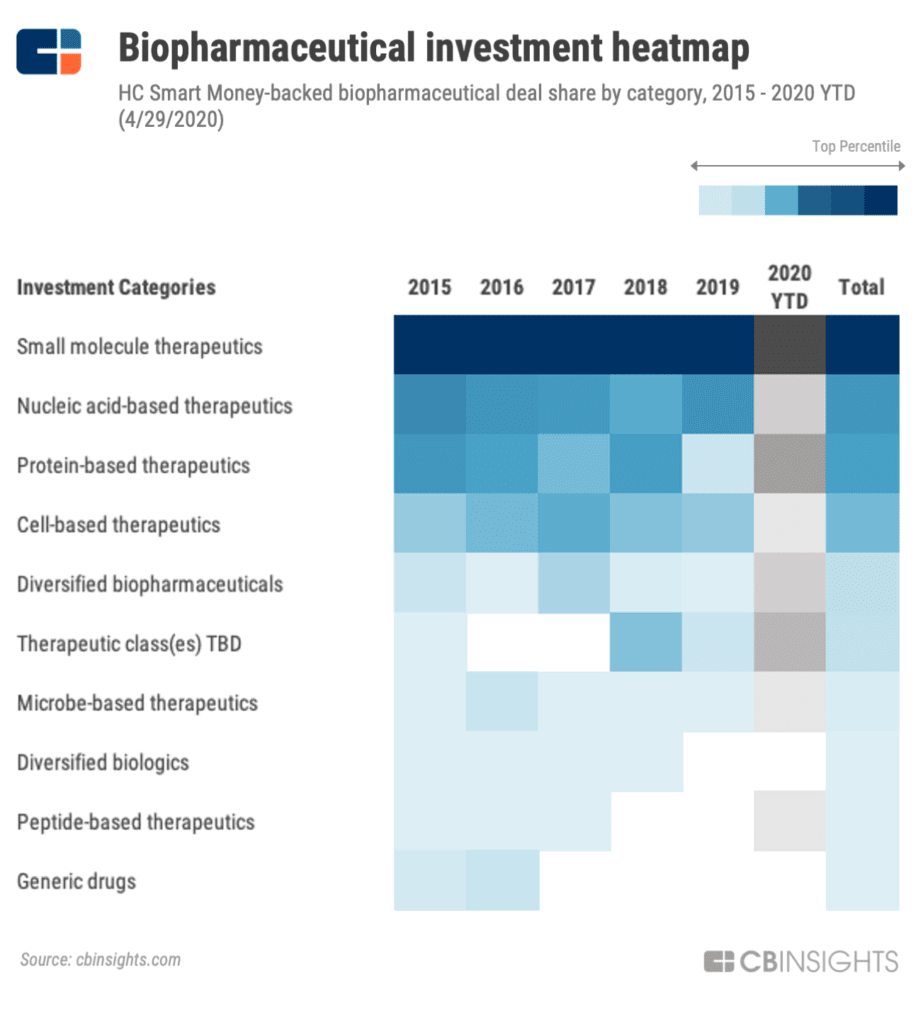 3. In Vitro Diagnostics Are The Hot Ticket Among Medical Devices
The "In Vitro Diagnostics" category includes all those diagnostic devices that work by analysing a human sample such as skin tissue or blood. It represent a $102bn global market and has been growing steadily in the past 5 years, attracting growing amounts of investment from Top 25 VCs.
Recent technological breakthroughs allowed the development of entirely new categories, including liquid biopsies, molecular point-of-care tests and a vast array of self-testing kits.
The whole diagnostics sector has been at the core of the coronavirus emergency, as testing became the foremost priority for many Governments. Top VCs were already aware of the potential of the industry, which benefits from a very dynamic M&A market.
For example, Sequoia Capital-backed Athelas and Founders Fund-backed Scanwell Health are developing devices that allow patients to self-test at home and share their results with remote providers.
Acquisitions of In Vitro Diagnostics start-ups from large corporations and clinical laboratories are on the rise, as bigger players look to incorporate proprietary technologies. Therefore, VCs who are able to identify promising IVD start-ups early on are rewarded with a clear path to a successful exit.
4. Digital Health Is Increasingly Prevalent In Top VCs' Portfolios
Overall, digital health companies make up less than a third of recent deals from the Top 25 VCs. However, that is set to increase as the sector deal share gained 5% in the first months of 2020 compared to 2019.
Artificial Intelligence is gradually rising to prominence within the sector, with number of deals in AI-powered healthcare companies peaking in 2019 and $260m already invested in 2020.
Source: CB Insights
AI's benefits on the drug development process come into play at different stages. At the initial stages of drug discovery AI could help find effective molecular compounds faster than traditional methods. It is also believed to improve the accuracy of predictions for the outcomes of newly discovered drugs, potentially increasing the chances of them being approved.
Large pharmaceutical corporations are increasingly reliant on a network of partnerships with AI start-ups to help them develop new therapies, creating interesting exit opportunities that make it an even more attractive sector for investors.
5. Telehealth Benefitted From Accelerated Adoption Rates
The first four months of 2020 have already seen as much deal activity as the whole of 2019 for Telehealth start-ups, with the invested amount already higher than 2018.
According to CB Insights, news mentions of telehealth doubled between Q4 2019 and Q1 2020, showing the sharp impact of the pandemic on the sector. Many players in the space reported booming activity during the lockdown, with many users expected to be retained even after the pandemic.
Top VCs were already investing increasing amounts in this sector over the last few years. A trend that only expected to accelerate, given the recent developments.
The information available on this page is of a general nature and is not intended to provide specific advice to any individuals or entities. We work hard to ensure this information is accurate at the time of publishing, although there is no guarantee that such information is accurate at the time you read this. We recommend individuals and companies seek professional advice on their circumstances and matters.