Will Cowell De Gruchy – Founder & CEO of Infogrid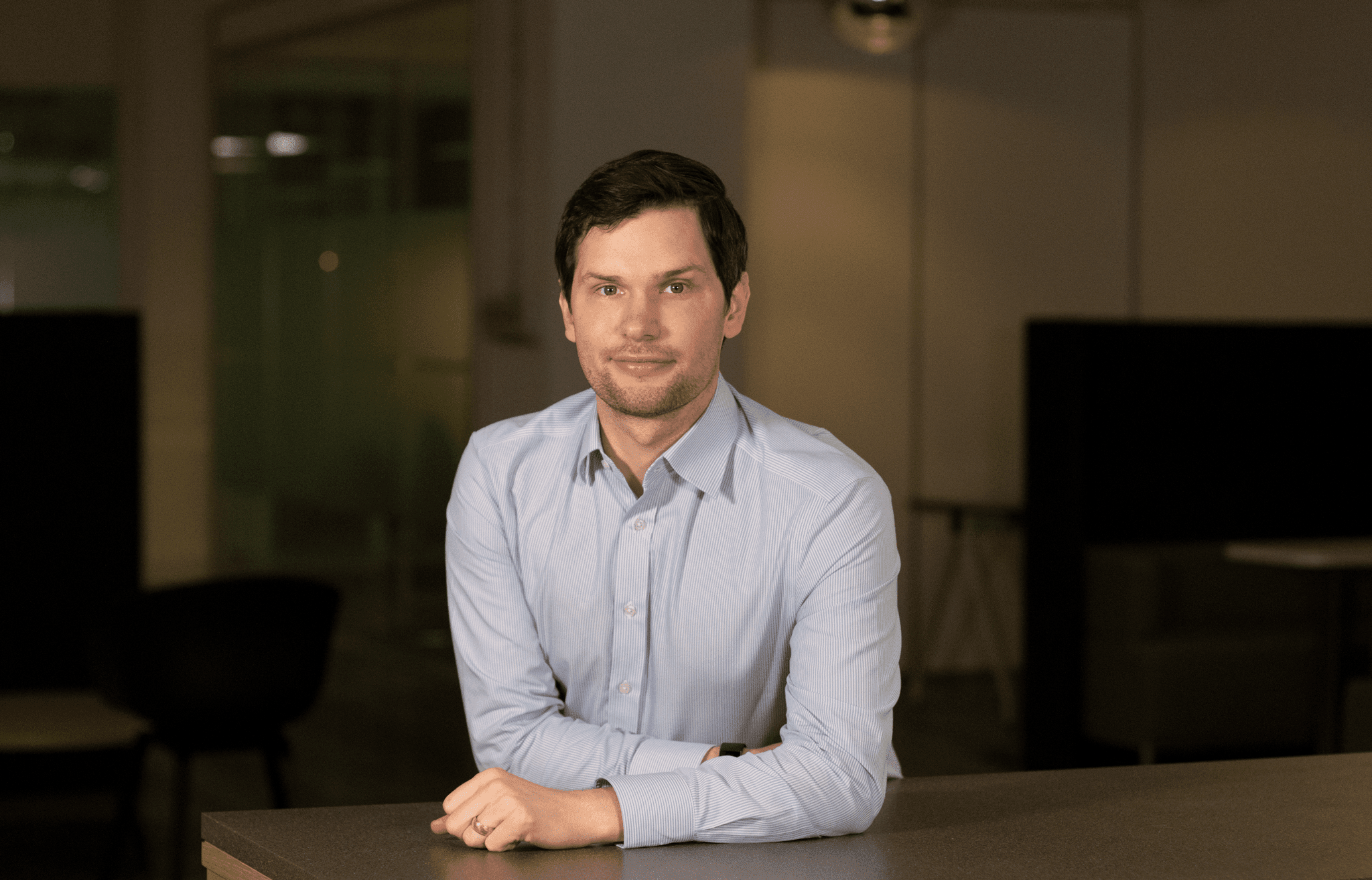 Will Cowell de Gruchy is the CEO and Founder of Infogrid, a company redefining the building and facilities management industry.
Founded in 2018, Infogrid combines the world's smartest IoT sensors with an AI-powered platform to help turbocharge facilities managers and real estate portfolio owners' operations. This data-driven approach is already delivering massive benefits in cost savings and improved compliance to customers around the world.
Most recently, Infogrid closed a $15.5m Series A in December 2020 following enormous growth last year, including rapid expansion in the US.
Becoming a Founder
…was a bit of a winding route! Straight out of University I worked in finance for a couple years, then I was briefly a cage fighter in Thailand, then a tank commander in the army!
Anyway, immediately prior to starting Infogrid I was working in commercial due diligence for private equity deals. My job involved visiting lots of different business premises on a weekly basis. I was looking for potential compliance issues, health and safety concerns and operational inefficiencies.
It was there that I noticed the problem that Infogrid now solves, which is the complete absence of real-time data (if any data!) to optimise the physical operations of a business. Particularly from the point of view of environmental sustainability of corporate real estate. That's how the idea came about.
Around that time I read a book called The Mom Test. The premise is that instead of asking your friends and family whether your business idea is good, you should go to a potential client and see if they would pay for it. So, that's what I did.
The meeting went well and the client committed to a paid pilot before we even started developing the product, which forced us to expedite our timelines. It was one of the best things that could happen to us because it taught us to learn from client innovation rather than sitting in an ivory tower.
What was the most character-forming experience in your journey as a Founder?
I think it would be wrong to pinpoint a single event as "character-forming" as the whole journey has been a constant learning process.
There's this optical illusion where you put two white pieces of paper next to each other and they look identical, then you swap one sheet with a slightly darker one. You still can't see a difference. If you do this gradually and for long enough, you can go all the way from white to black without ever seeing a difference between two adjacent sheets.
Our journey has been similar: when we started the company three years ago we were just two people and we knew nothing about anything. Today there's 90 of us and we're growing by around ten per month, we have clients all over the world and well-known investors.
Everything's changed: my job is completely different and so are the company and the product, but I never noticed it as I went along. There's never a "formative day", there's been highs and lows but the learning experience came from the journey rather than the individual pit-stops.
What makes me the most proud about Infogrid
…is definitely our positive environmental impact.
We're incredibly mission-driven. My personal passion in life is the preservation of the natural world. That's why I'm an entrepreneur, so I can ultimately be in the position of some of the world's best entrepreneurs, where they can actually weigh in on global issues with a meaningful impact.
What I love about Infogrid is that as the company grows we become more and more part of the solution. 39% of global emissions are generated by buildings, so putting a dent in that has a hugely significant impact on the environment.
We're very proud to have been involved in the vaccine rollout with the NHS, and also with COVID testing with a leading pharmaceutical company.
We just did a rollout nationwide with a leading retail bank. Alongside a great commercial outcome, we're helping them save 8.5m litres of water and 800 tonnes of carbon per year. Every time we replicate a success like that it makes us very proud, but again it's the journey not the small things.
We're a software company, we write code but physical things happen in the real world thanks to it and I love that!
My best piece of advice for a fellow Founder
…is to be unrelenting in believing in your idea.
If you don't have that, especially at the beginning, then maybe it's not the best idea! But if you believe that the world needs your company or your product, then don't let anyone else who disagrees stop that.
During our Seed Round, we had very little interest from any VCs. Although I firmly believed that our company was going to change the world, they wouldn't agree. During our Series A those same people were inbounding me, wanting to be involved.
That journey will look different for each company, but it's important to stick true to your belief in your idea and mission.
How did COVID change your approach to productivity?
We didn't have to break strides at all as we've always been a flexible work company. Even pre-COVID our employees were working from wherever they wanted, from the French Alps to the café around the corner.
Our whole culture is built on trust and very outcome-based. I know that each employee is going to deliver, regardless of whether they take the morning off to pick up the kids or climb a mountain!
Finerva supported my business vision
…by taking away a lot of tasks that are very time-consuming but essential.
Back when there were still just two of us, we had this debate about whether or not we needed a service like Finerva after our pre-Seed round. We decided to give it a go and we couldn't be happier with that decision.
Zeina herself has been absolutely phenomenal, and it's great to know that the core stuff is being dealt with and if there's anything extra we can sort it out with someone who already knows and understands our business.
You never really stop being a Founder
…but when I'm not busy running Infogrid, I love to ski, scuba-dive, skydive… My passion is the natural world so along with trying to preserve it I like being in it.
I'm an extrovert, I draw my energy from people and conversations so I love just being around people, which is great cause that's pretty much what I do all day when I'm working!
The information available on this page is of a general nature and is not intended to provide specific advice to any individuals or entities. We work hard to ensure this information is accurate at the time of publishing, although there is no guarantee that such information is accurate at the time you read this. We recommend individuals and companies seek professional advice on their circumstances and matters.