Collective Impact is back!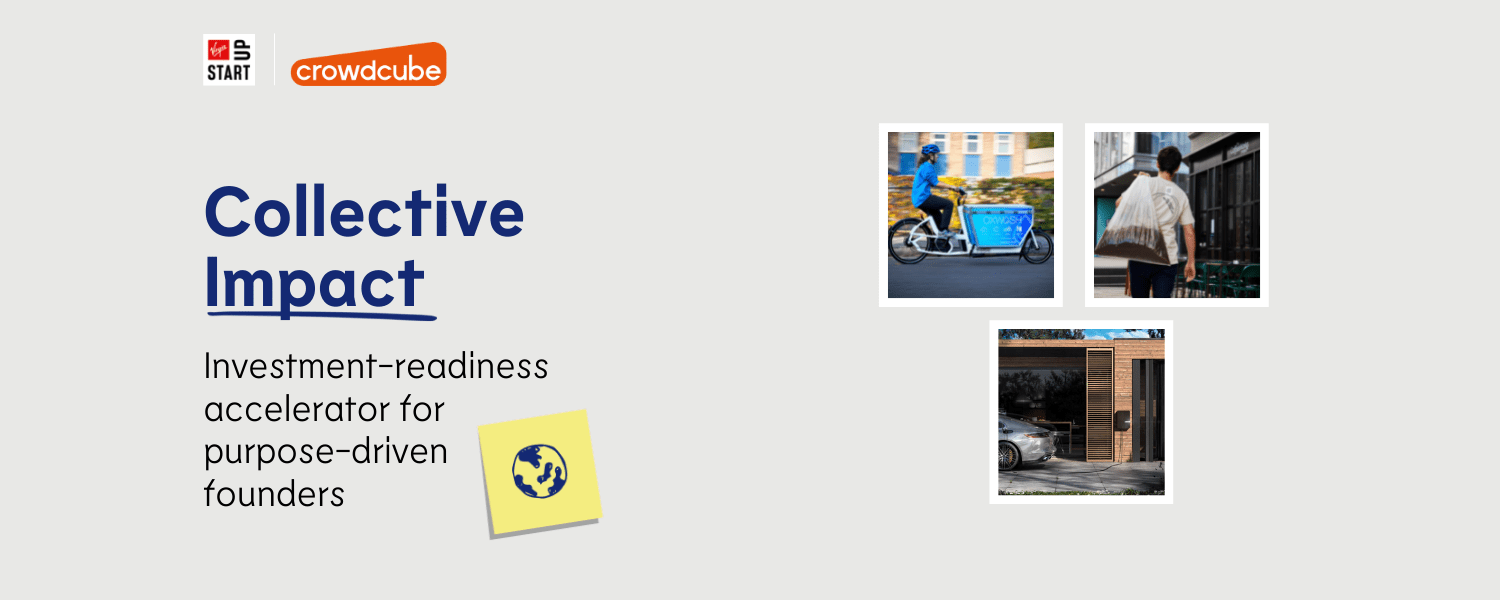 Collective Impact is back once again and welcomes applications by the 2nd of October 2022.
This is Virgin StartUp and Crowdcube investment-readiness accelerator for purpose and mission-driven startups who have growth potential.
The programme provides access to training, networks, and investors to help founders on a mission grow their businesses with a network of purposeful investors and crowdfunding. It is designed for start-ups looking to raise between £150k – £1m to scale their impact.
From previous investment-readiness programmes run by Virgin StartUp:
Companies that took part in their investment readiness programmes went on to raise an average of £558,000 through equity crowdfunding;
82 start-ups have raised over £17m in funding;
This year, the Collective Impact is doubling the size of the cohort;
Experienced network of purpose-led investors on board.
Collective Impact criteria & application process
Collective Impact is for founders who are building standout consumer brands, or truly innovative B2B product or service providers in high growth categories that positively impact society and our planet.
Businesses applying to participate in the Collective Impact programme must be focused on scaling change and be looking to raise between £150k and £1.5m via equity crowdfunding on Crowdcube
Applications are now open and close at midnight on 2nd October
The programme commences in October and runs for 6 weeks
Visit the official website to apply here 
Find out more about their recent programme and participant on our recent blog.
What previous Founders said about Collective Impact
Upcircle I Crowdfunded £218k from 377 investors
An ethical skincare brand that gives natural ingredients a new lease of life. They pride themselves on being vegan, cruelty-free and zero waste.
"Virgin StartUp's support enabled us to raise capital via crowdfunding in an efficient and streamlined way that made the whole process a lot more pleasant than it might have been." – Anna Brightman, Founder, UpCircle
eFOLDi I Crowdfunded £940k from 746 investors
eFOLDi is transforming the mobility market with a patented, lightweight, foldable and roadworthy scooter.
"Virgin's help has been an invaluable springboard for eFOLDi." – Sumi Wang, Founder, eFoldi
The information available on this page is of a general nature and is not intended to provide specific advice to any individuals or entities. We work hard to ensure this information is accurate at the time of publishing, although there is no guarantee that such information is accurate at the time you read this. We recommend individuals and companies seek professional advice on their circumstances and matters.