PropTech: 2022 Valuation Multiples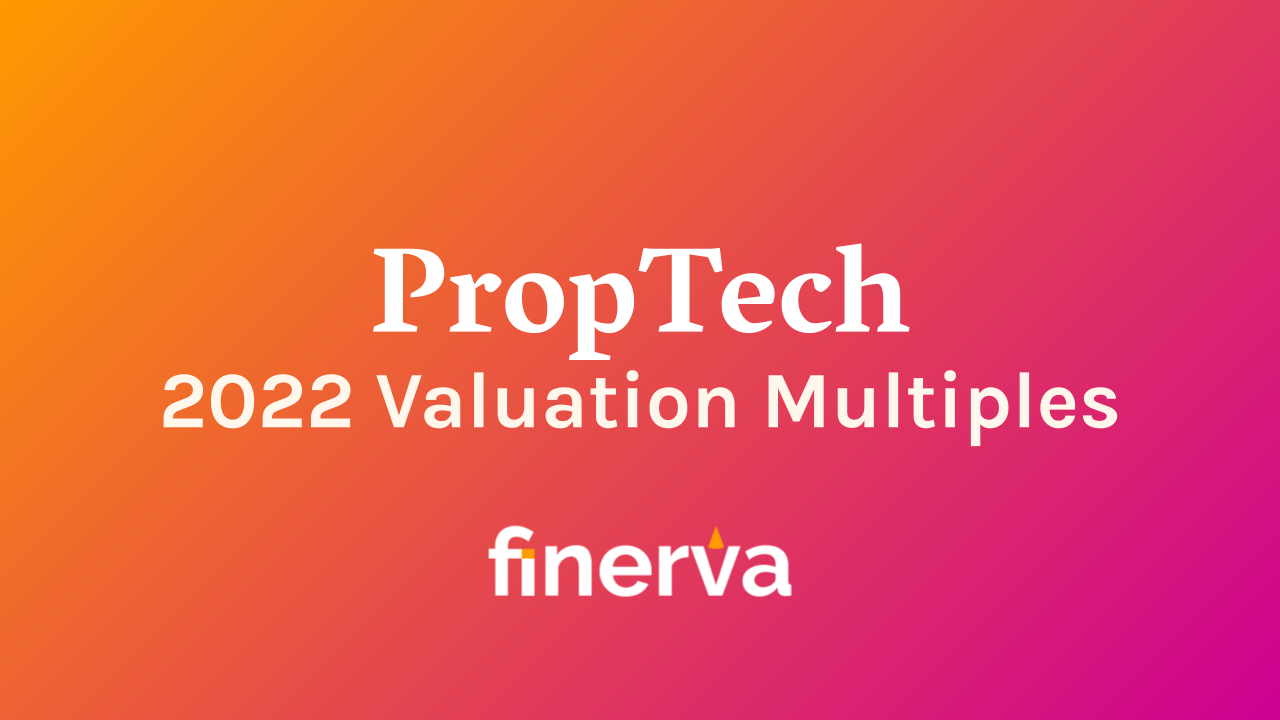 It's hard to estimate the value of the global real estate market, but we know it's a multi-trillion dollar business entirely based on—literally—brick and mortar. Ever since the 2000s, with the first property search websites like Rightmove, tech companies started to enter the real estate market to digitise an industry seemingly impossible to fully separate to its physical, traditional roots. The PropTech sector was born.
Ever since, PropTech has come a long way, from property listing and search unicorns such as Zoopla and Zillow, through high-profile hits-and-misses such as WeWork, all the way to investors-favourite Airbnb and up-and-coming deep-tech companies ranging from AI-driven market intelligence (Reonomy) to smart home device networks (Plume)—the sector has broaden its reached and multiplied its value. One might even argue that metaverse-based virtual real estate is a form of PropTech innovation.
In early 2020, the global pandemic with its lockdown mandates, as well as a looming recession and inflation fears, sent shockwaves through the real estate industry which seemingly ground to a halt in the matter of a few weeks. PropTech followed suit with investors worried about the sustainability of business models ultimately reliant on the housing and commercial real estate markets.
Within months, it became clear that the outcome was quite the opposite: Credit Suisse called the pandemic a blessing in disguise for the PropTech sector, with agencies rushing to adopt online solutions to eliminate the need for in-person viewings, office space suppliers rapidly adapting to more flexible workspaces that seamlessly incorporate remote work and an increased demand for connected infrastructures (i.e. smart homes).
According to Hampleton Partners' latest PropTech M&A Report, 2021 was the sectors' best year in terms of investment with $24bn of funds injected into PropTech companies. Over half of PropTech investors targeted ventures in the smart buildings sectors, as well as those who are trying to streamline and digitise mortgages and real estate investments.
According to the Center for Real Estate Technology and Innovation, 2022 is on track to surpass last year's record investment levels, with $13bn raised just in the first six months of this year.
M&A activity in the PropTech sector was just starting to pick up pre-pandemic, with a peak of 63 deals inked in the second half of 2019, just before a major setback the following half-year. The sector has seen a significant rebound ever since, with deal volume growing over 50% from 35 M/A events in 1H 2020 to 55 in 1H 2022.
Overall, these figures show a sector that is yet to reach its maturity and remains largely fragmented as of today. However, as noted by Hampleton Partners, we can predict a significant uptick in M&A over the coming years as key market players start consolidating and offering end-to-end solutions, especially in light of current inflationary pressures and increased demand for tech-enabled solutions from the market.
This is especially true for the construction and development segment of the real estate supply chain, with property hardware such as smart sensors for building management, as well architecture & imaging software featuring among the fastest growing sub-sectors on the M&A front.
Enterprise Real Estate Software companies captured 25% of PropTech M&A transactions in the first half of 2022, which is in line with the overall upwards trend in Enterprise Software.
PropTech 2022 Revenue & EBITDA Multiples
With a wide range of applications throughout the supply chain, it's not easy to define a precise range of valuation multiples for the PropTech sector.
However, based on M&A transactions over the last 5 years, Hampleton Partners found that the median Revenue multiple for PropTech companies was 3.7x, with 50% of M&A targets recording multiples between 2.3x and 9.2x.
EBITDA multiples' distribution was skewed on the opposite side, with a median EBITDA multiple of 24.8x and half of the PropTech companies in the sample ranging between 11.7x and 29.3x.
The Enterprise Real Estate Software sub-sector recorded more consistent results, with most companies showing revenue multiples between 1.7x and 3.7x, and EBITDA multiples between 3.9x and 16.2x.
The information available on this page is of a general nature and is not intended to provide specific advice to any individuals or entities. We work hard to ensure this information is accurate at the time of publishing, although there is no guarantee that such information is accurate at the time you read this. We recommend individuals and companies seek professional advice on their circumstances and matters.