SaaS Market Shows Signs Of Recovery Following Tough 2022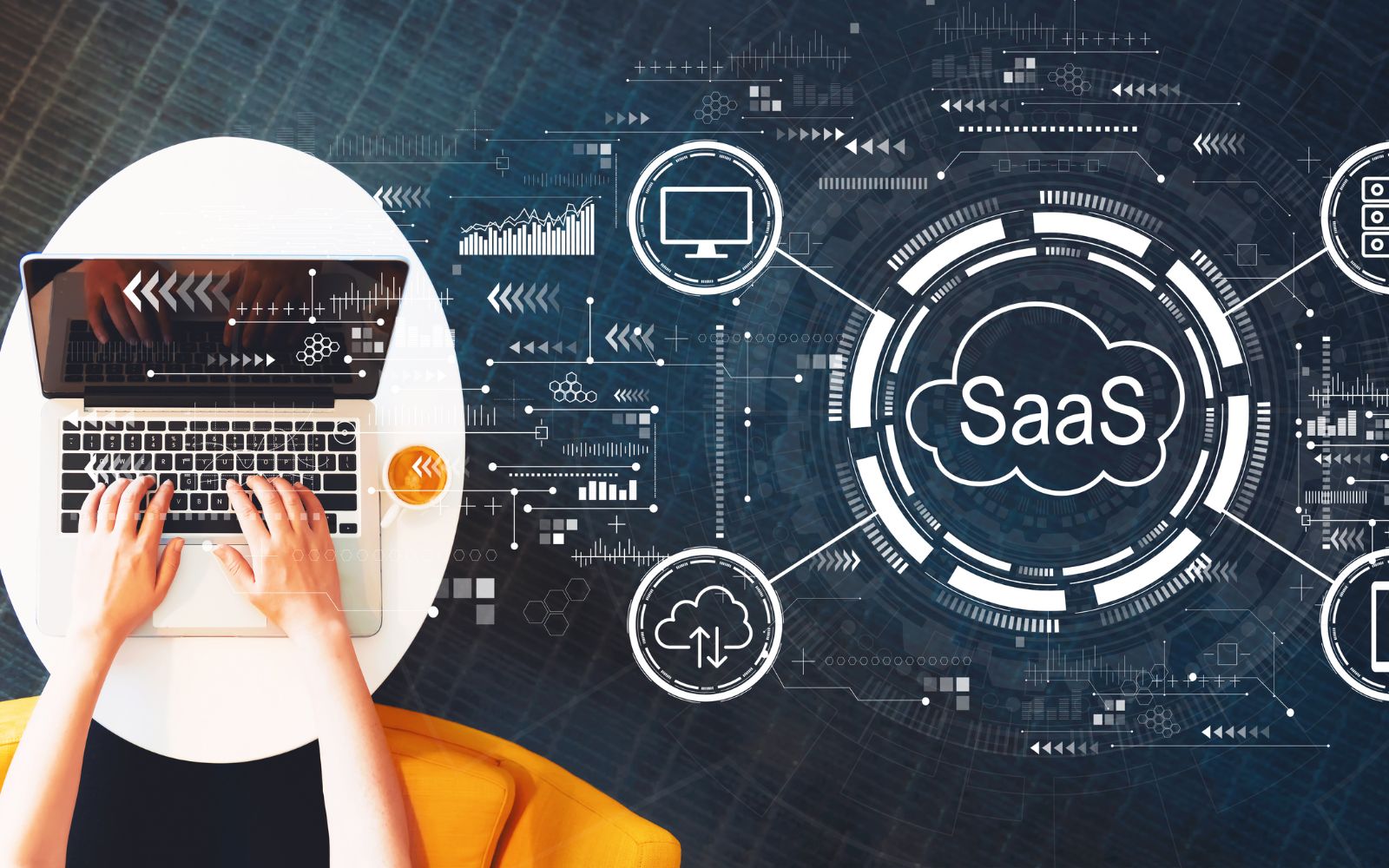 A weakening macroeconomic landscape in 2022 damaged walloped sales across the tech sector as companies scaled back spending. And latest research from ChartMogul shows that revenues in the SaaS market grew at their slowest pace since before the pandemic.
Conditions have remained tough during the first quarter of 2023, the software business reports. But it notes that recent data suggests the SaaS space could be in the early stages of a rebound.
Growth Drops To 2019 Levels
ChartMogul's latest report shows that SaaS revenues growth last year cooled significantly from the "phenomenal" growth of the previous two years.
The top quartile of SaaS businesses with annual recurring revenues (ARR) of $1 million to $30 million grew sales 62.1% in 2022, the data indicates.
This was down significantly from expansion of 93.4% and 78.9% in 2020 and 2021 respectively.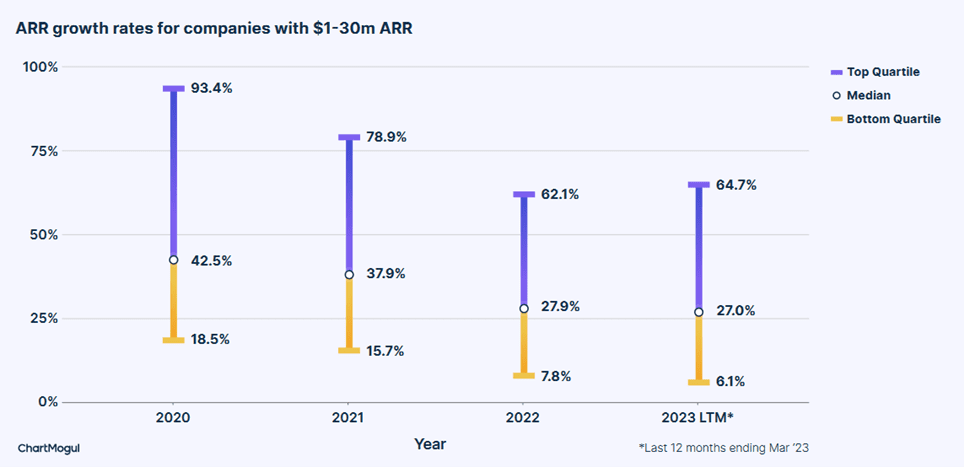 ChartMogul SaaS Benchmarks Report
"Companies of all sizes experienced a slowdown" last year, according to the report. The top decile of public SaaS companies grew 48% in 2022, down from 66% in 2021. And the top quartile of businesses grew 39% in 2022, a slowdown of 15% year on year.
Startups Feel The Pressure
The strain was especially severe for early-stage startups last year, ChartMogul's data shows. The top quartile of SaaS business with ARR below $1 million grew 139.1% during the 12 months to March.
This was "only half the pace at which similar-sized businesses were growing in 2020 or 2021," the software firm notes.
ChartMogul SaaS Benchmarks Report
Customer Retention Levels Weaken
A deterioration in customer retention levels was a major reason for the SaaS market slowdown last year, ChartMogul notes.
It comments that "a tough macroeconomic environment meant customers reassessed and cut their SaaS spend," adding that "the last 12 months were the toughest for retention they have ever been."
The software firm says that those companies that were able to retain their customers grew at least 1.8 times faster than their industry peers. SaaS businesses with a net retention rate of over 100% grew sales 49.5% in the last 12 months, the report shows. But businesses with net retention of between 60% and 80% range raised them by just 9.2%.
ChartMogul notes that SaaS companies are relying more on expansion revenue to drive sales in the current climate. It says that the percentage of ARR generated from expansion increased from 28.8% in 2020 to 32.3% in the first quarter of 2023.
By comparison, the proportion of ARR gained from new business dropped from 62% to 57.9% over the period.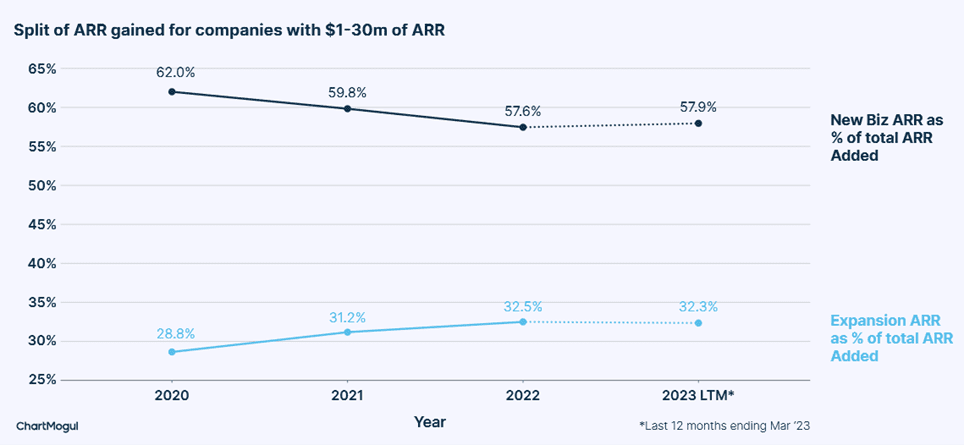 ChartMogul SaaS Benchmarks Report
Modest Signs Of Recovery
There are bright spots amongst the gloom, though. ChartMogul comments that "there are signs of stabilisation" in the SaaS space following seven consecutive quarters of slowing growth.
The report indicates that the top quartile of companies with ARR between $1 million and $30 million saw growth accelerate slightly between January and March.
ChartMogul SaaS Benchmarks Report
In addition, SaaS businesses with more than $1 million in ARR also saw new business sales on the same basis accelerate during quarter one. Growth sped up to 60% in the three months to March from 45% in the prior two quarters.
Yet despite these positive indicators ChartMogul remains to be convinced that the market is at the start of a sustained recovery. It says that "it's too early to say if this is a temporary stabilisation, an outlier, or part of a wider trend."
It notes that ARR growth for SaaS companies with sales below $1 million continued slowing at the start of 2023. The top quartile of these firms reported growth of 139% during quarter one, with new business ARR growth amongst these companies slumping to 79% in the first quarter versus 100% in the three prior quarters.
ChartMogul SaaS Benchmarks Report
More Encouraging (If Choppy) Data
ChartMogul is not alone in witnessing a possible rebound in the SaaS market, however. Software subscription business Cledara has also witnessed a broad improvement in revenues growth at the start of 2023.
The total market grew 6.7% in quarter one from the previous three-month period, it says, or 37% on an annual basis. And SaaS spending in March rose 1.7% from February levels. The data was taken from 118 companies that account for more than 36,000 of all SaaS transactions.
Cledara says that "certain software categories such as Design and Customer Success continue to experience impressive year-over-year growth" as businesses continue to prioritise their digital transformation strategies.
It notes that top quartile SaaS companies grew sales by 1.6% month on month in March, while sales in the second quartile rose 2.2%. Third and fourth-quartile revenues increased 0.7% and 2.7% respectively.
Yet despite the broad first-quarter sales increase SaaS trading was still uneven at times. January spending was up 1.3% month on month, just below that 1.7% increase for March. But in between, sales in February dropped 3.7% as all quartiles reported negative growth.
Cledara Q1 2023 SaaS Market Insights
The information available on this page is of a general nature and is not intended to provide specific advice to any individuals or entities. We work hard to ensure this information is accurate at the time of publishing, although there is no guarantee that such information is accurate at the time you read this. We recommend individuals and companies seek professional advice on their circumstances and matters.