Why the UK is a great place to set up a high growth business
The United Kingdom is often seen as an attractive place to start a business.
Believed to be the leading exporter of tech, innovation, and talent; the UK offers a desirable location for companies looking to develop new products with easy access to new customers, product innovators, suppliers, and partners. The UK presents a supportive environment for new and expanding businesses, drawing from a wider pool of opportunities and resources.
In Startup Genome's latest release of The Global Startup Ecosystem report GSER 2021, London tied second-best with New York City for the second year in a row, after Silicon Valley.
Finerva is part of the UK's tech and startup ecosystem and the place for ambitious entrepreneurs like Matija Kovac, co-founder and CTO of Taia Translations and Ben Marcilhacy, co-founder of Timworks. The UK is home to the companies of tomorrow and a hub for great tech innovations. Both are operating thriving companies that started and/or expanded their businesses into the UK.
THE TOP 4
Here are the top 4 reasons why the UK is one of the best places in the world to start a high-growth business based on the experiences of Matija Kovac and Ben Marcilhacy:
Ease of doing business
Manageable Taxation System
Access to funding
UK Government Support for R&D
1. EASE OF DOING BUSINESS
Ben Marcilhacy describes his experience of starting Timworks in the UK, "We're probably the last generation of entrepreneurs who were in London before Brexit, and I think London and the UK have provided opportunities that we as co-founders, felt we couldn't find in our home countries of France and Greece. We are a company that has a bit of an interesting journey because we're post Brexit and post or mid-Covid babies. So, we don't know the world before that. In our sector – software, FinTech, business finances or business workflow – we felt that London was a very natural place for us to be when the time came for us to start a business."
"In terms of the advantages, there is something to say about the ease of doing business in the UK! Everything from incorporation to registration with the HMRC, including maintaining compliance when it comes to VAT. Additionally, when it comes to employment contracts, the ease of managing our business flexibly and being able to provide different types of contracts is very helpful. As entrepreneurs coming from France and Greece, we're not exactly known for administrative efficiency, so I think that is something we value in the UK," Marcilhacy explains.
Matija Kovac from Taia Translations agrees with the ease of doing business in the UK, "We were opening our UK company at the same time as we were opening another branch in Croatia. It took us about two days to open a company in the UK, open a business bank account and start operating the business. For the Croatian company, it took us about three months to get from where we started the process to where we finally had access to a bank account. In the meantime, our investors were waiting with a significant amount of money on the side for our bank accounts to be confirmed. This was a huge challenge for us because it took a huge amount of time and energy, which could have been directed into growth, product development and sales, rather than administrative tasks."
2. MANAGEABLE TAXATION SYSTEM
Kovac explains: "In terms of why we decided to expand to the UK, it's mainly because myself and Marko (Hozjan, Co-Founder & CEO of Taia Translations), both come from the small country of Slovenia, where options for international growth are limited. If you have a good product and a good team, you reach the ceiling very fast. If you want to grow your company faster, you need to expand internationally. However, expanding internationally with your HQ in Slovenia is sometimes challenging because we have many legal limitations that come with the EU as well as renewed tax limitations, VAT charges and it gets complicated very fast. Whereas the business framework for operating the business in the UK is much more flexible."
"It's much easier to set up shop in the UK than it is in any other EU country. One thing I liked about opening the company in the UK is that you get comprehensive information from the government offices. Whereas when we were opening companies in other EU countries, we have to try to search for information ourselves. And, if by any chance you make a legal or tax mistake somewhere, you can get into a heap of trouble because of that," according to Kovac.
3. ACCESS TO FUNDING
In a recent report by Ernst & Young, London continued to hold its standing as the most attractive European city for investment, while the UK was the most common destination for Foreign Direct Investment.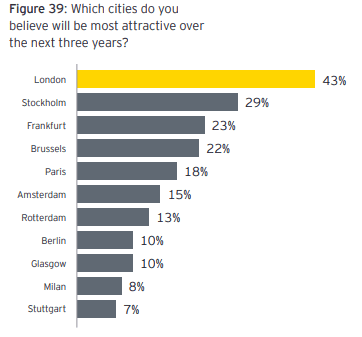 London as a city is among the world's top startup hubs and continues to dominate the majority of investment rounds with UK tech investment, accounting for a third of the total £89.5 billion that flowed into the European tech ecosystem in 2021.
Kovac agrees, "The UK is just so much bigger and the whole London area is an international hub from where we can expand to other markets. When it comes to building a SaaS company or a startup like ours, you're highly dependent on funding because you need to pay for very expensive software development and marketing costs. So, being in a region where it's more likely to get an investment, is a huge draw for us. Out of most European capitals, London is by far the biggest financial centre and has been for decades. It also houses a vast pool of very interesting VCs we were interested in working with. So, for us at Taia, it offers a great opportunity to secure the next round of investment. It is easier to use our UK base as a sort of stepping stone from where we can go in the rest of the world."
4. UK GOVERNMENT SUPPORT FOR R&D
UK government incentives and schemes also help make the UK an attractive location for a holding company. R&D tax credits are available for SME's investing in Research & Development.
Marcilhacy explains, "An advantage that we see in the UK is regarding the fiscal, or at least the tax efforts and government incentives. For a tech company like ourselves, we need to be able to offer EIS and SEIS for investors and ensure we afford EMI share options to our employees. Schemes like the research and development tax credits may potentially be quite significant to us and would help make the UK very enticing to anyone thinking of setting up a base here."
These are some of the key reasons to consider expanding your business in the UK and despite the setbacks caused by Brexit, Covid & lockdowns, the UK is still considered the top hub for tech companies in Europe.
With thanks to Finerva's international clients, Matija Kovac and Ben Marcilhacy for sharing their experiences. They are both the perfect example of how to set up and expand a business successfully within the UK. Based on the economic, cultural, and structural reasons outlined above, it is not hard to see why London as a city is among the world's top startup hubs and continues to lead thanks to its large enterprise culture. Partnering directly with a company like Finerva to help establish a presence in the UK, remains a vital piece of both company's growth strategies.
At Finerva, it's important, that we inform Founders of the benefits existing in the UK while establishing a business. We encourage you to reach out to one of our team members to discuss the opportunities available to you, please email hello@finerva.com
More about Taia Translations & Timworks
Taia Translations is a company full of a passionate bunch of extraordinary language professionals. Their team of ambitious and goal-driven individuals are revolutionising the translation industry: machine-assisted human translations are the future. For more information please visit Taia Translations website.
Timworks is a collaboration platform for accounting. It is a tool to connect you with your team and your tech tools to get more work done, in real-time. Known as the "accounting chat app", it allows you to integrate your accounting tech stack Xero and Dext. For more information please visit Timworks website.
Michelle Hind is the creative director at Chillibean Creative and a freelance brand consultant. She has a special interest in how the levels of employee motivation directly impact the quality of work presented to clients and determine the success of the overall brand experience – from staff through to client.
Michelle has experience working with teams operating in a flexible work environment. Her work as a multimedia journalist has been featured across the United Kingdom and Southern Africa.
She graduated from Rhodes University with a Bachelor of Journalism, majoring in journalism, media studies and psychology.

The information available on this page is of a general nature and is not intended to provide specific advice to any individuals or entities. We work hard to ensure this information is accurate at the time of publishing, although there is no guarantee that such information is accurate at the time you read this. We recommend individuals and companies seek professional advice on their circumstances and matters.