Is full-time office work making a comeback?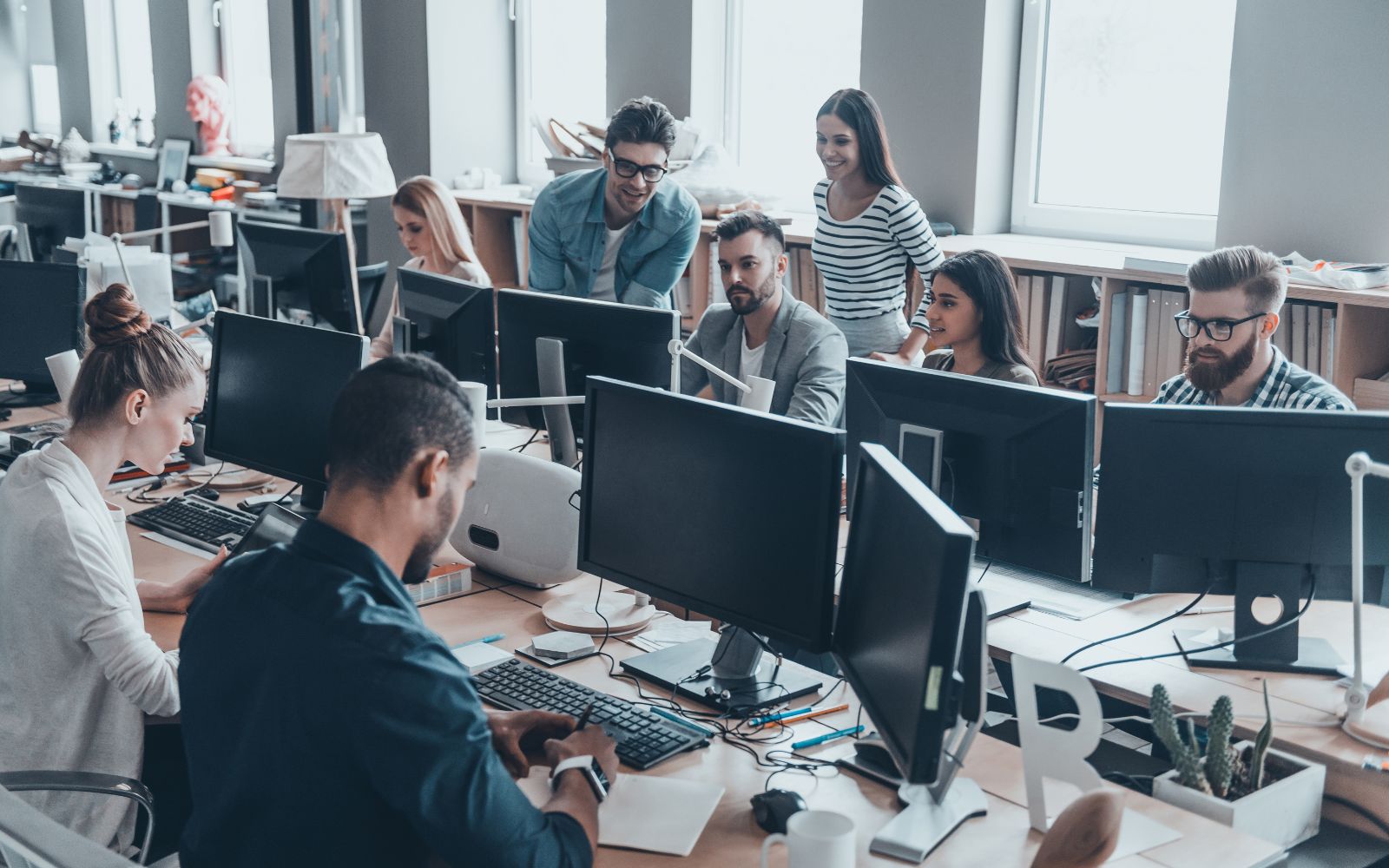 Back in early 2020, only a select few would get the privilege of working from home. Companies would sometimes include a 'monthly working from home day' in their employee benefits package, and typically only if they'd been working at the company for a certain amount of time. Cut to March 2020 – most of the workforce was sent home, and remote working became a reality that employers and employers were forced to adapt to and looked like a full-time office work was in the past.
Much of the workforce realised they could not only work efficiently from home, but their work-life balance, productivity inside and outside of work, and enjoyment in their job was rejuvenated. Being freed from the nine-to-five office presenteeism worked well for some, while others craved the social interaction, collaboration, and simply the change of scenery that comes with working in the office. Nevertheless, there are ups and downs to both and once Covid restrictions eased, it seemed like companies had found the perfect mix to suit everyone – hybrid working.
A hybrid working model or flexible working quickly became a requirement for employees when job searching. Data shows that current employees and job seekers are strongly motivated by remote working options. A July 2022 study by consulting firm McKinsey & Company found that 40% of employees saw flexible working as a top motivator for staying in a role. Another survey asked job seekers what their top priority was when searching for a new role, and nearly 30% chose some kind of flexibility as their number one priority.
Last year, during the 'Great Resignation', the ball was in job seekers' court. Employers were scrambling to find the best talent, so flexible working/remote working/hybrid working – essentially, a work model that suited the employee – was used to dissuade prospective and current employees from searching elsewhere. What's changed?
Why are more companies returning to full-time office work?
Since the 'Great Resignation', the balance has shifted. Workers fled en-masse in search of more flexible working arrangements and better pay in 2021 and 2022, essentially giving them the upper hand. Now, the power pendulum is swinging back towards employers as the fear of layoffs, recession, and economic uncertainty looms. This reinstation of employer leverage could be a factor in workplaces going full-force with in-office days. A study found that a huge 90% of companies planned a return-to-office in 2023, with 21% of companies even saying they would fire workers who refused. Some are also tracking attendance.
If employers are saying they prefer flexible working, why are companies pushing a return to the office? CEOs cite productivity, routine, mentorship, and collaboration as reasons for going back to the office. There's also the case of expensive, better equipment that can't be transported into the home. One CEO explicitly accredits a sense of belonging to in-person work – "A sense of being part of a group is an important part of finding happiness in a community. Being part of a group does not automatically engender feelings of belonging; rather, it is a result of having a shared sense of social identity. Your colleagues at work are more likely than your yoga mates or investing club members to make you feel like you're part of a larger community."
A factor that employers might not be so quick to admit is the underutilised space. It's a big commitment to downsize an office or terminate a commercial lease, so unless they're ready to take the plunge, many companies are haemorrhaging money on office space that goes unused.
What are the companies that are returning to the office?
Major employers are issuing a return-to-office policy. JPMorgan Chase and Goldman Sachs are completely scrapping their hybrid models, reinstating the 5-day in-office model. Workers at Amazon, Apple, Google, and IBM are required to do three days in the office, while the likes of Disney, BlackRock, and others are enforcing employees to go into the office four days a week.
Meta have also stopped using the phrase 'remote work' on their job advertisements. Salesforce, who previously said workers could "work from anywhere" and said the "9-5 workday is dead" are now enforcing a three-to-four-day in-office rule. Countless businesses are backpedalling on their promises – was it a bid to appear more flexible and appealing to prospective employees?
With so many big companies requiring employees to report to the office five days a week, or seeming like they're heading that way, the concern is that smaller companies will follow suit. Slack, however, are an outspoken remote-first company. Slack CEO Stewart Butterfield said they are "remote-first, not remote-only." Shopify are also advocates for remote working – one of the concerns with working from home is the number of video calls that caused the so-called 'Zoom fatigue', but Shopify are ahead of the curve and have enforced a no-meeting rule on Wednesdays. Deloitte are another giant name operating a remote-first policy, allowing their employees to work from anywhere after 96% of Deloitte's workforce said they wanted the freedom to choose how they worked.
In summary, the ongoing debate continues and there is no one-size-fits-all. There are for's and against's for both remote work and in-office work, but it will be a divisive subject among employees with varying preferences. Employees don't like to feel duped, and one study found that companies that backtrack or are ambiguous on their remote working policies are 2.3x more likely to lose employees. Companies that are completely transparent in their return-to-office policies while offering flexible work schedules and a middle ground will continue to be more attractive to job seekers.
The information available on this page is of a general nature and is not intended to provide specific advice to any individuals or entities. We work hard to ensure this information is accurate at the time of publishing, although there is no guarantee that such information is accurate at the time you read this. We recommend individuals and companies seek professional advice on their circumstances and matters.