How Top FinTech Investors Changed Their Strategies Over The Last 5 Years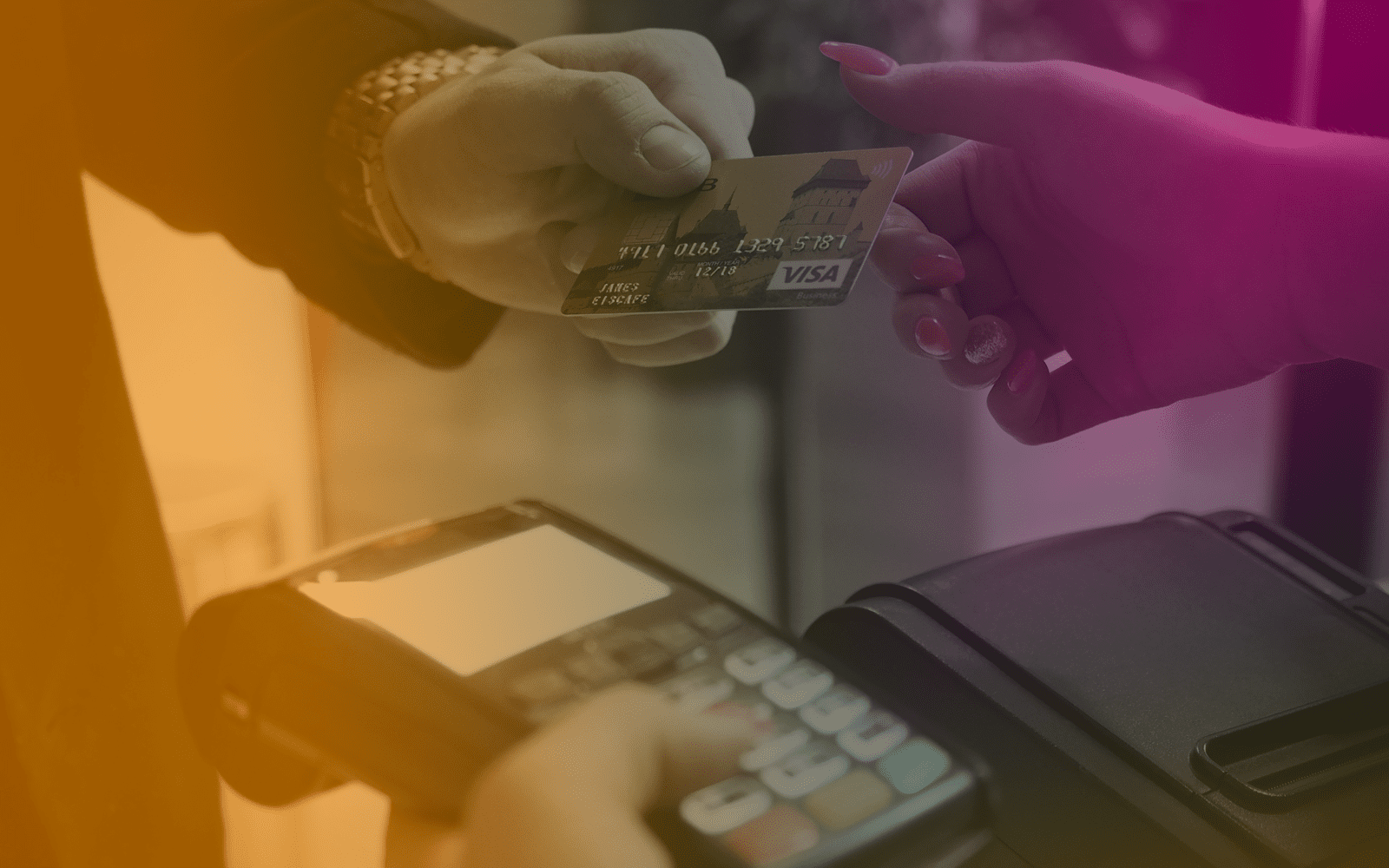 FinTech has been a hot sector for VC investment for a number of years now, especially in Europe and the UK, where some remarkable companies have contributed to a rapid advancement in the way we think about money and finance.
It seems that many of FinTech's technologies and sub-sectors are now reaching their maturity, with a new generation of challengers emerging. So where are investors looking for the next big thing?
CBInsights tried to answer this question by compiling a list of the top 25 FinTech investors, which they dubbed "Smart Money" and analysing where and how they invested since 2015.
The list includes household names such as Accel, a16z, Index Ventures and Sequoia and – according to CBInsights – we need to look at their portfolio if we want to understand more about the future of FinTech.
The methodology to select the 25 'smartest' FinTech investors "factors in portfolio company outcomes, appearances on the CB Insights Fintech 250 list, the ability to consistently deploy capital, and portfolio quality" which, combined, offer a more precise benchmark than, for example, their rates of return.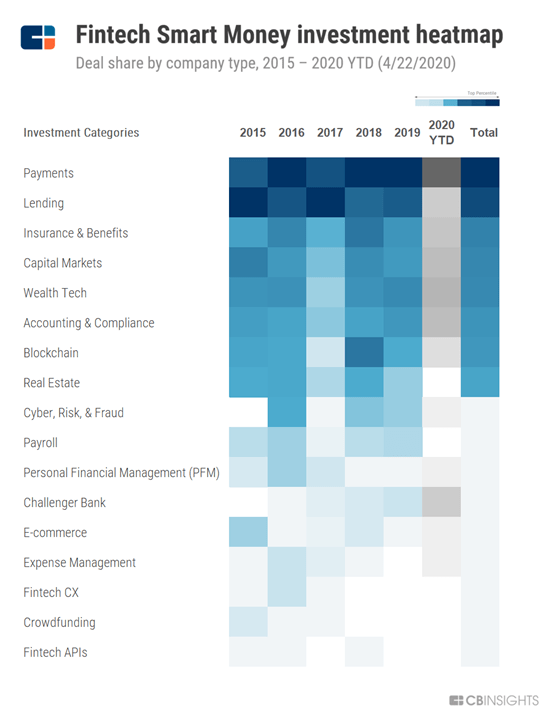 Although almost all of the VCs selected are based in Silicon Valley, the research provides 5 key takeaways that describe the evolution of this increasingly sector as a whole.
FinTech investment has peaked, but it's here to stay;
US investors are venturing abroad;
Payments are hot;
Blockchain is not;
Accounting is having a moment.
Let's see them more in detail with the relative data.
1. Investment in the sector reached its peak in 2018
Source: CBInsights
There is no doubt that FinTech has been one of the most talked-about sectors in recent years, meeting emerging consumer needs with cutting-edge technology and having a deep impact on so many aspects of society.
Investors' interest for this sector has been growing just as fast, with number of deals increasing at a steady pace between 2016 and 2019. With 48 deals realised by the 25 firms analysed only in the first few months of 2020, it seems like there is still appetite for promising firms in the space.
When looking at data for funding amount year-by-year, the rapid growth of the sector is even more apparent, with total investment almost quadrupling from $6.4bn in 2017 to $23.1bn in 2018 – keep in mind, this is only from 25 firms.
The year later, however, funding dropped 34% to $15.3bn, perhaps signalling a correction to the staggering number of the year prior.
As COVID-19 impacts companies in the sector that serve SMEs and deal with lending, as well as projecting its effects on valuations through the whole market, it's quite likely that 2020 investment won't be quite as generous as the previous two years, but recent exits and earlier stage funding also confirm that it will stay at relatively high levels.
2. US VC firms are increasingly backing early stage companies from China, the UK and Latin America
Source: CBInsights
Over the past five years, the US basically halved its market share of early-stage FinTech deals that include the Top 25 investors selected – most notably, 23 of these are US Firms.
Attracting 80% of deals in 2015, the US lost ground to economies with faster adoption rates and a more prolific market, China and the UK first and foremost.
China solidified its position as a global player in 2018, attracting one in every five deals. The UK slowly grew its market share up to 6% in 2018 and 2019, but it was off to a great start in 2020, with over 10% of the deals realised by the selected investors in Q1.
Other growing economies such as India and Brazil are also increasing their presence in the FinTech space, as local start-ups aim to serve untapped markets accounting for significant populations.
3. The Payments sector has been growing consistently both in number of deals and funding amount
Source: CBInsights
While in other sub-sectors of FinTech the number of deals per year has been somewhat fluctuating, data for Payments start-ups shows a steady growth, up to 60 deals in 2019 from about half of that in 2015.
Payments start-ups also generated some of the most notable mega-rounds worth upwards of $100m. Among others: Toast, Stripe, Divvy and Mission Lane, this last one raising a staggering $100m Series A in 2019.
Source: CBInsights
4. Blockchain lost its charm
Source: CBInsights
As we all remember, Blockchain and cryptocurrencies were the talk of the town in 2018, when the price of a single bitcoin peaked at around $20,000.
Despite Top 25 investors lining up to invest in the groundbreaking technology at the top of its hype, they seemingly haven't seen sufficient returns, with the technology failing to penetrate markets quickly enough.
As a result, number of deals dropped from 26 to 11 the following year, while funding amount dropped almost 60% to $335m.
5. Accounting and compliance software start-ups doubled their deals in 2019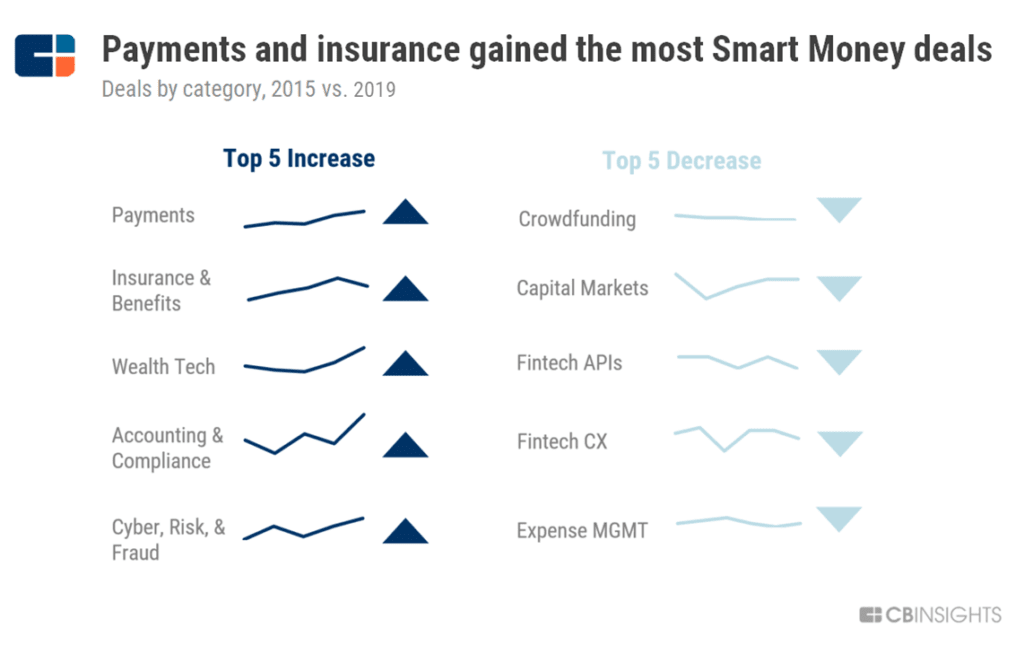 Despite perhaps not attracting as much buzz as other sectors, Accounting and Compliance managed to make itself noticed by the top FinTech investors.
Accounting & Compliance was the 5th sector by number of early-stage deals in 2019, but more interestingly, many relatively unknown companies caught the eye of high-profile investors last year, raising large later-stage rounds.
China-based Golden Technology is an example, with a $141m Series B with Boston-based IDG Capital.
The information available on this page is of a general nature and is not intended to provide specific advice to any individuals or entities. We work hard to ensure this information is accurate at the time of publishing, although there is no guarantee that such information is accurate at the time you read this. We recommend individuals and companies seek professional advice on their circumstances and matters.