Self-Driving & Smart Vehicles: 2023 Valuation Multiples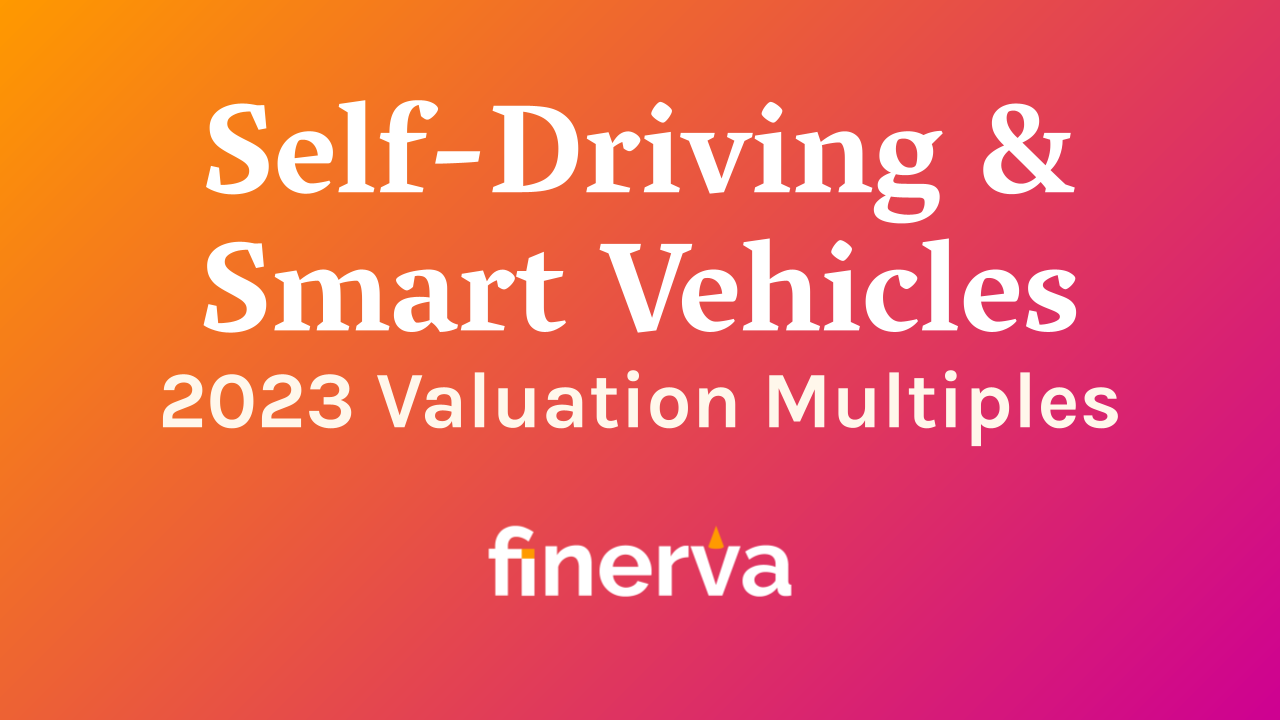 For a few years now, self-driving cars and vehicles—straight out of sci-fi—have started populating roads around the world. While the technology is still in its infancy and adoption is extremely low, the sector is growing at an astounding rate and is set to revolutionise every aspect of mobility and logistics.
Self-driving vehicle supporters argue that the tech's adoption is going to increase road safety and efficiency, thanks to faster and more precise decision making from the vehicle's system, and its potential to communicate with other cars on the road, as well as traffic infrastructure, preventing accidents or optimising traffic flow without requiring any human input.
A growing number of companies are trialling fully autonomous vehicles on public roads, like Google spin-out Waymo, as well major manufacturers who have started to equip their vehicles with autonomous or assisted driving features, like Tesla and Honda, but also General Motors, Renault and Audi.
While still in its early days, the sector is among the ones with the highest predicted growth rates in the next decade. According to Business Wire, the number of cars with self-driving capabilities will increase from 20.3 million units in 2021 to 62.4 million by 2030, with the global market for autonomous vehicles growing from $95bn to over $1.8tn in the same time period, according to Precedence Research.
Some of the key challenges for this sector include high cost barriers for the technology, safety and ethical concerns and most importantly regulatory environments. Mobility and road safety constitute a highly regulated environment. Skepticism around the technology and its yet unproven benefits may lead local authorities and industry bodies to limit the use of self-driving features on the road.
A recent report showed that nearly 400 accidents in the US over less than a year were caused by cars using self-driving features. The NHTSA (National Highway Traffic Safety Administration), who commissioned the report, warned that it's hard to stack these number agains the 6 million car crashes reported each year in the US. However, the data did raise questions and sparked criticism towards manufacturers.
The Global X Autonomous & Electric Vehicles ETF (DRIV), managed by Mirae Asset Financial Group, as well as the Smart Transportation & Technology ETF (MOTO), managed by Guinness Atkinson Asset Management, both invest in companies that are playing an active role in developing technology related to autonomous vehicles and smart transportation.
Together, the funds invest in around 70 different publicly traded companies that report their revenue and EBITDA figures. While some of these are known and established manufacturers that benefits from huge market sizes and economies of scale, analysing their multiples allows us to establish a benchmark that can be useful to infer the valuation of a private company.
Self-Driving & Smart Vehicles Valuation Multiples
Given the incredibly high production and R&D costs of self-driving vehicles, it's no surprise that median revenue multiples are below-average compared to other tech sectors.
However, 2020 saw the metric double from 1.6x in Q1 to 3x in Q4. In Q4 2022, the median revenue multiple for self-driving and smart vehicle companies was 2.2x, within 30% of its highest point but still nearly 40% above pre-pandemic levels.
Because the cohort includes both industry incumbents, with proven revenue models and little room for growth entering the self-driving segments, and cutting-edge newcomers who are working exclusively on autonomous vehicle projects, there is a huge variance within the multiples dataset.
While the vast majority of the cohort recorded revenue multiples below 8x throughout the past two years, top performers went as high as 100x or 120x between the end of 2020 and the start of 2021. These outliers saw a correction from the second half of 2021, with the top 25% of the cohort recording revenue multiples between 4x and 24x in Q4 2022.
Source: YCharts (1) (2) In the chart above, the lines indicate the range of EV/Revenue multiples in our cohorts, while the boxes highlight the Interquartile Range (IQR), which is where the median 50% of the cohort ranks based on their valuation multiple.
While the time series for EBITDA multiples shows a similar trend to the Revenue ones, more than doubling from 8.4x in Q1 2020 to 19.5x in Q4 2020 and then decreasing throughout 2021, we can see that the ratios are much higher. This shows that in an industry with such elevated costs, profit margins are the key to high valuations.
The last recorded median EBITDA multiple for self-driving and smart vehicles in Q4 2022 was 9.3x.
Variance in EBITDA multiples has been growing in the self-driving vehicle cohort up until the end of 2021, with top performers reaching multiples over 200x. However, this metric is notoriously unreliable when it comes to early profits from growing businesses, which applies to many of the companies in the group.
Source: YCharts (1) (2) In the chart above, the lines indicate the range of EV/EBITDA multiples in our cohorts, while the boxes highlight the Interquartile Range (IQR), which is where the median 50% of the cohort ranks based on their valuation multiple.
The information available on this page is of a general nature and is not intended to provide specific advice to any individuals or entities. We work hard to ensure this information is accurate at the time of publishing, although there is no guarantee that such information is accurate at the time you read this. We recommend individuals and companies seek professional advice on their circumstances and matters.