Metaverse & Virtual Reality: 2023 Valuation Multiples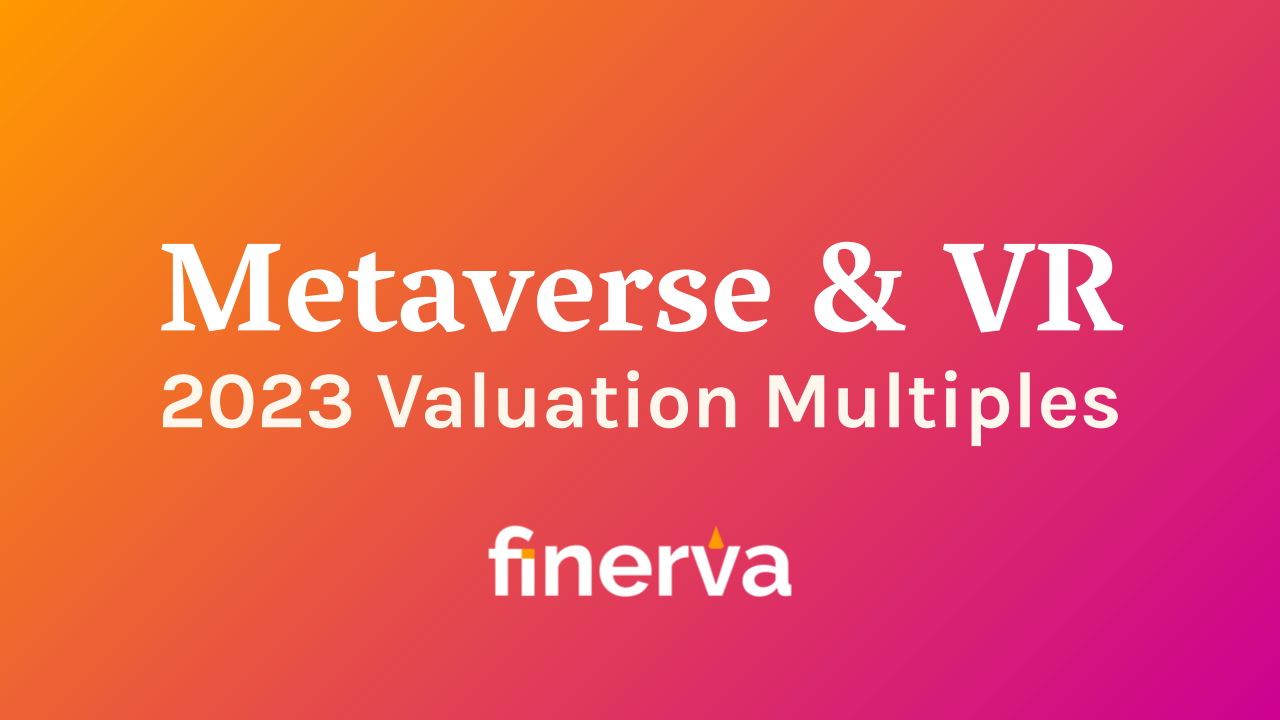 When in October 2021 Facebook announced that they were rebranding to Meta, the concept of Metaverse was still relatively new to the larger public. However, companies had already been making strides in the space for several years, and the tech giant's announcement only signalled the huge momentum built around this innovative concept.
A combination of augmented reality (AR), virtual reality (VR), mixed reality, blockchain, and other technologies, the Metaverse aims to give users a rich, all-encompassing experience of a simulated virtual world that—according to most companies working in the space—is soon going to replicate every aspect of real life. "We'll be able to feel present – like we're right there with people no matter how far apart we actually are" said Mark Zuckerberg, per The Guardian, during his announcement of the imminent rebranding.
Needless to say that demand for virtual and immersive experiences has skyrocketed during the COVID-19 pandemic, kickstarting the sector's explosive growth. According to Fortune Business Insights, in 2021 the size of the worldwide Metaverse market was estimated at USD 63.83 billion. The market is anticipated to expand at a CAGR of 47.6% from 2022 to 2029, rising from USD 100.27 billion in 2022 to USD 1,527.55 billion.
Investors' and large companies' interest in the Metaverse space is palpable. Only a few weeks after Meta's announcement, Nike partnered with online gaming studio and Metaverse pioneer Roblox—which went public at the stellar valuation of $39bn in March 2021—to create Nikeland, an virtual world where users can dress up their avatars in Nike-branded sneakers and apparel.
In May of this year VC firm Andreessen-Horowitz—who were already advocating for the disruptive tech back in 2020—announced a $600m fund dedicated to Metaverse, VR and Web3 projects. Within a week from the fund launch, world-class VC Sequoia capital poured $37m into Singapore-based Metaverse start-up BUD.
The up-and-coming sector wasn't spared from criticism that the technology is overhyped and will face a regulatory nightmare over every aspect—from transactions and currencies to hate speech, and was dragged down by the fall of adjacent sectors such as crypto and Web3.
The GlobalX VR & Metavers ETF (VR), managed by Mirae Asset Financial Group, invests in companies "iinvolved in the development of hardware and software that allow users to experience extended digital realities, creator platforms, where live streaming and other media content is shared in 3D simulations; creator economies, involving the development of applications involving digital payments…" as well as adjacent sectors like blockchain and cloud computing.
Of the 30 companies in the index, about 30 have their profit and revenue publicly available. While this is a relatively small sample in terms of statistical significance, it is still relevant in terms of understanding trends in investor sentiment, as well as as a benchmark for private companies.
Metaverse & Virtual Reality Tech Valuation Multiples
Metaverse companies that were already publicly listed in Q1 2020 were valued at 4.1x their Revenue. Throughout the pandemic the median revenue multiple for the sector kept rising, up to 6.7x in Q4 2021.
The sector has since seen a sharp decline: in Q4 2022 the median EV/Revenue multiple for Metaverse companies was 3x, 25% below pre-pandemic levels although it must be noted that many companies (including Roblox) were only included into the sample in 2021, most likely making the results more accurate.
Source: YCharts
Results across the cohort became distinctly more right-skewed over the course of the past two years, with the top-25% performers in the cohort achieving multiples between 9x and 40x in Q4 2021.
Source: YCharts In the chart above, the lines indicate the range of EV/Revenue multiples in our cohorts, while the boxes highlight the Interquartile Range (IQR), which is where the median 50% of the cohort ranks based on their valuation multiple.
Median EV/EBITDA multiples went from 13.4x to 21.7x throughout 2020, before falling in 2021—although less than their Revenue counterparts. In Q4 2022 the Median EV/EBITDA Multiple for Multiverse companies was 11.5.
Source: YCharts
EBITDA Multiples show how profitable companies are particularly valuable in a space that is still finding its way towards money-making business models. In a mixture of subscriptions, micro-transactions and brand partnerships, companies that are able to prove stable operational profitability definitely have an edge in the eyes of investors.
Source: YCharts In the chart above, the lines indicate the range of EV/EBITDA multiples in our cohorts, while the boxes highlight the Interquartile Range (IQR), which is where the median 50% of the cohort ranks based on their valuation multiple.
The information available on this page is of a general nature and is not intended to provide specific advice to any individuals or entities. We work hard to ensure this information is accurate at the time of publishing, although there is no guarantee that such information is accurate at the time you read this. We recommend individuals and companies seek professional advice on their circumstances and matters.