Green Energy & Renewables: 2023 Valuation Multiples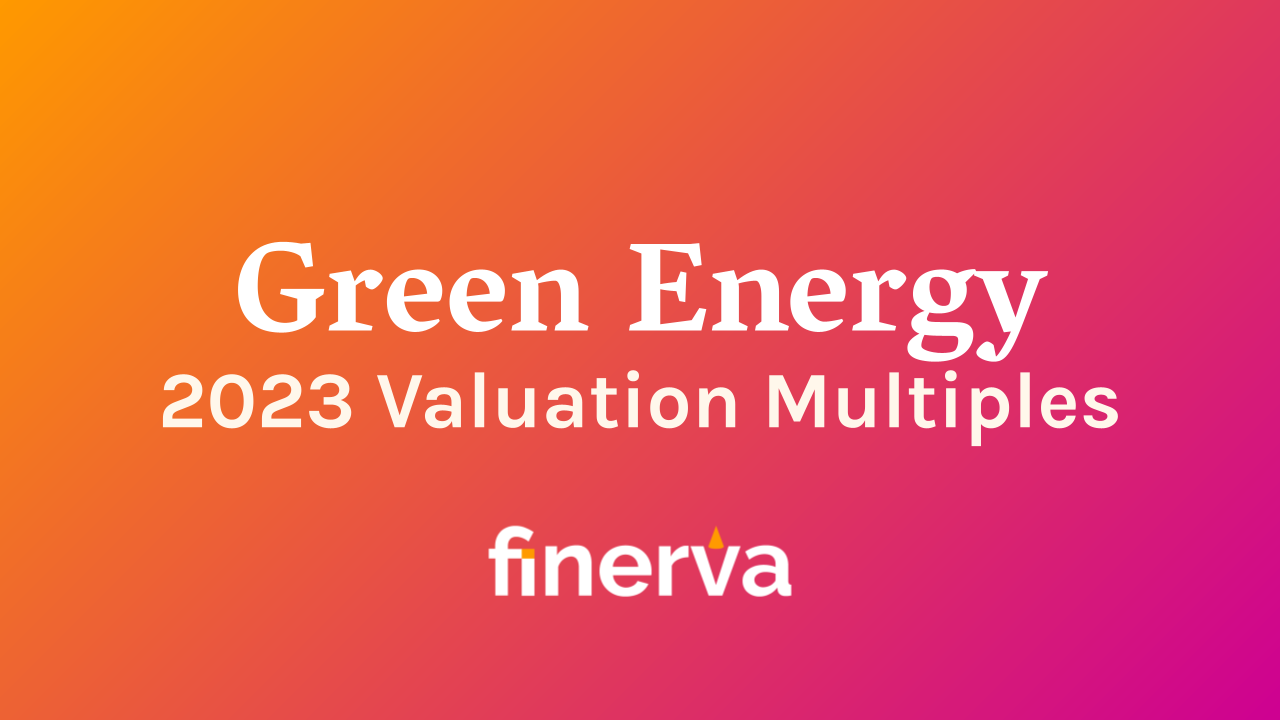 For decades, companies have been working towards cost-efficient alternatives to produce Green Energy through sustainable, renewable sources, both in an effort to fight climate change and—more recently—to address energy supply shortages as a consequence of the war in Ukraine.
For a number of years investors, private equity companies and pension funds have been setting up funds reserved for so called ESG companies (Environment, Social and Governance). ESGs are companies that are committed to sustainable practices from an environmental and social point of view.
As the term is used quite loosely, different funds have different definitions of what a sustainable company looks like. Some, for example, only support enterprises that are committed to net-zero targets. For this report, we chose a fund that invests exclusively in Green Energy producers.
While ESGs and Green Energy companies in particular have been a top priorities for investors for a long time now, the war between Russia and Ukraine put the sector under unprecedented pressure to provide energy supply to countries that would otherwise depend on large oil and gas suppliers such as Russia.
According to Pitchbook, this is one of the reasons why 2022 marked the biggest year for clean energy investment in start-ups. However, the sector has not been immune to the VC funding shortage that peaked at the end of last year, with investment dropping 46.5% year-on-year in Q4 2022.
The sector has never been hotter, with more and more governments underwriting net-zero commitments and a record year for overall investment in renewable projects including VC, PE, asset finance, small scale solar and public markets, reports Bloomberg. But Green Energy companies still have to deal with the somewhat adverse macroeconomic scenario that all startups are facing.
The Global X Renewable Energy Producers ETF (RNRG), managed by Mirae Asset Financial Group, "seeks to invest in companies that produce energy from renewable sources including wind, solar, hydroelectric, geothermal, and biofuels."
The 25 companies in the fund are all listed on public stock exchanges, and so their financial metrics may differ from younger start-ups introducing innovative technologies, typically considered a high-risk-high-reward investment. However, analysing their revenue and EBITDA multiples allows us to establish a benchmark that can be useful to infer the valuation of a private company.
Green Energy Valuation Multiples
Across sectors, we've seen a trend of fast-growing multiples throughout 2020 and 2021, when capital was cheap and abundant, followed by a rapid fall throughout all of last year, which caused most companies' valuations to plummet far below their pre-pandemic levels.
This trend is also visible for Green Energy companies, although the massive momentum that the sector is enjoying allowed them to suffer much smaller losses than most sectors.
Revenue multiples for Green Energy companies grew throughout all of 2020, almost doubling from 6.7x in Q1 to 12.7x in Q4 2020 when they reached a peak. 2021 and 2022 saw a slow but steady decline in median revenue multiples. In Q4 2022 the median EV/Revenue multiple for Green Energy companies was 6.4x.
Source: YCharts
The distribution of the multiples across the sample has seen very little skew until 2021, which the top 25% of performers peaking in Q2 2021 and then falling again, with the whole cohort fitting in the 1x – 18x range by the end of 2021, with the median 50% staying between 6.5x and 11.7x.
However, 2022 has seen top performers in the cohort extending their lead. By the end of 2022 the top 25% companies in the cohort recorded revenue multiples between 10x and 18x, whereas the remaining 75% ranged from 2.6x to 10x.
Source: YCharts In the chart above, the lines indicate the range of EV/Revenue multiples in our cohorts, while the boxes highlight the Interquartile Range (IQR), which is where the median 50% of the cohort ranks based on their valuation multiple.
In terms of EBITDA valuation multiples, we see a relatively similar trend, peaking at 18.2x in Q4 2020 and then declining slowly back to pre-pandemic levels. The median EBITDA multiple for Green Energy companies in Q4 2022 was 12.3x.
Source: YCharts
The distribution chart for EBITDA multiples shows much higher variance, with top performers setting themselves apart since 2020 when multiples were still on an upwards trajectory.
Companies with a high degree of differentiation—which use multiple renewable sources to produce Green Energy—such as Canadian producer Innergex, or Renova Inc. in Japan, were able to achieve the highest multiples, consistently being valued over 20x or 30x their EBITDA.
Source: YCharts In the chart above, the lines indicate the range of EV/EBITDA multiples in our cohorts, while the boxes highlight the Interquartile Range (IQR), which is where the median 50% of the cohort ranks based on their valuation multiple.
The information available on this page is of a general nature and is not intended to provide specific advice to any individuals or entities. We work hard to ensure this information is accurate at the time of publishing, although there is no guarantee that such information is accurate at the time you read this. We recommend individuals and companies seek professional advice on their circumstances and matters.