Cannabis & CBD: 2023 Valuation Multiples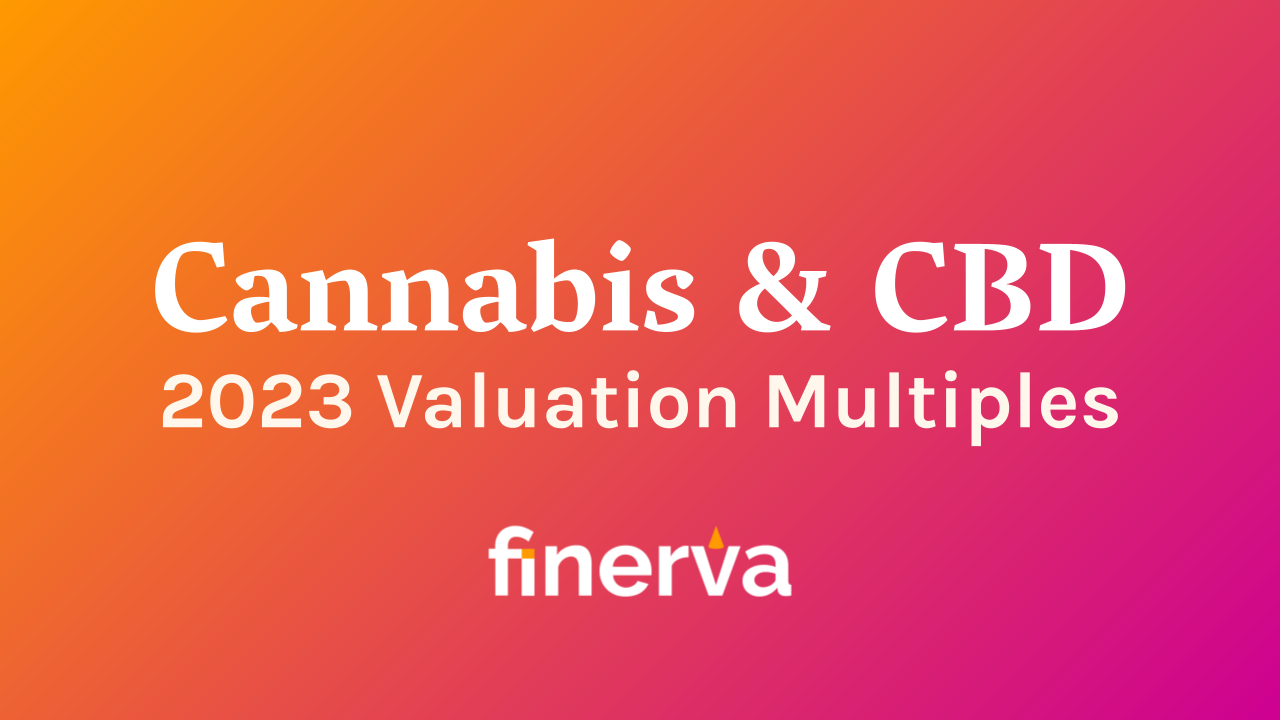 Over the last two decades the legal landscape surrounding cannabis has undergone a dramatic shift. In 1996, California became the first US state to legalise medical cannabis, since then 38 US states have legalised medical cannabis, of which 22 also allow its recreational use. The rest of the world followed suit, including many European countries gradually decriminalising and legalising cultivation, sale and medical uses of cannabis, and in some cases—increasingly so in recent years—recreational consumption as well.
The rise in cannabis companies has been accompanied by a significant increase in investment in the cannabis industry. Venture capitalists and other investors have poured billions into the sector, attracted by the potential for large profits from a legal supply chain with global demand.
However, after a boom in demand during the COVID-19 pandemic, both industry growth and sales of cannabis have seen a decline, reports Headset. Despite this slowdown, Forbes reports that the US cannabis market is predicted to be worth over $31.8bn by the end of 2023. However, more conservative sources have lowered their forecasts for market growth in the sector, such as GlobeNewsWire, which reports that the global market will reach $66.3bn in size by 2030.
Previous reports were estimating market sizes almost three times larger, but the post-pandemic correction in sales forced analysts—and investors—to reconsider their projections.
While in 2021 Forbes reported that "the U.K. currently stands at the centre of European cannabis investment activity" Germany has since taken over as the most prominent European market for cannabis start-ups after announcing the legalisation of recreational use during the current government's term.
Startups in the region have started attracting local and foreign investment ever since, with tobacco giant British American Tobacco leading the largest funding round to date in September 2022, backing Sanity Group's Series B round with a $37.6m investment.
Such a strong interest from investors into European cannabis companies makes it interesting to use the more mature US market as a benchmark, with several cannabis companies already listed on public stock exchanges.
The Cannabis ETF (POTX), managed by Mirae Asset Group, seeks to invest in companies that are "involved in the legal production, growth and distribution of cannabis and industrial hemp, […] providing financial services to the cannabis industry, pharmaceutical applications of cannabis, cannabidiol (i.e., CBD), or other related uses including […] extracts, derivatives or synthetic versions."
Currently, there are only 24 companies in the fund that are listed on public markets, most trading on the NYSE. Of these, very few are currently posting positive earnings, which makes it interesting to look at how revenue multiples change over time to gauge investor sentiment towards future profitability.
However, because this particular sector is so closely tied to global legislative trend shifts influencing local regulatory environments, as well as relying on a relatively new supply chain configuration, this data should be interpreted as purely indicative.
Valuation Multiples For Cannabis Companies
While the European market, still in its infancy, looks promising and attractive to investors, the more mature North-American market has been heavily impacted by falling sales after the pandemic, as well as the decrease in discretionary spending caused by the cost of living crisis.
In fact, after a steep climb from 5.2x to 13.2x between Q1 2020 and Q1 2022, median revenue multiples for Cannabis companies fell sharply throughout 2021 and 2022.
In Q4 2022 the median EV/Revenue multiple for public Cannabis companies was 1.4x, nearly 75% below pre-pandemic levels.
Source: YCharts
The distribution chart below shows how, in a relatively new industry, competition amongst key player can result in more or less skew in the distribution of multiples in the sample. Throughout 2020 and the first half of 2021, as the overall market expands and median multiples are growing, the sample is spread out with less skew, with the top 25% of the sample recording multiples only four or five times higher than the median.
By the end of 2022, however, top performers in the sample completely take the lead skewing the distribution, as median multiples fall. Here, companies with the highest multiples are performing almost 100 times better than the median.
Source: YCharts In the chart above, the lines indicate the range of EV/Revenue multiples in our cohorts, while the boxes highlight the Interquartile Range (IQR), which is where the median 50% of the cohort ranks based on their valuation multiple.
As this is a fast-evolving segment—especially outside of North America—shifts in data like the ones above can be useful to understand how industry players think that variables like the regulatory environment, consumer demand and profitability are changing. It is important, however, to closely monitor industry news to help put this data into perspective.
The information available on this page is of a general nature and is not intended to provide specific advice to any individuals or entities. We work hard to ensure this information is accurate at the time of publishing, although there is no guarantee that such information is accurate at the time you read this. We recommend individuals and companies seek professional advice on their circumstances and matters.