2020 Investment Update: A Closer Look At Valuations
Although valuation data is typically hard to find and sometimes conflicting, encouraging signals from various sources seem to indicate that COVID hasn't affected business valuations as much as some feared.
In a previous report, we looked at funding rounds in Q2 2020, with a focus on COVID's effects on the number of deals and amounts invested.
What we didn't touch on, for relative lack of data, is how company valuations have adjusted to this new, more challenging, fundraising environment.
Of course, many growing company had to review their projections in light of the decreased economic activity as a consequence of the pandemic.
Most notably, in the UK, challenger banks Monzo and Revolut respectively raised a down round (with a 40% decrease in valuation), and a flat round this summer.
Like Monzo and Revolut, many businesses saw their revenues plummet during Q2 and found themselves in dire need of bridge funding in order to fuel their operations. Sometimes, in order to secure such funding, Founders are forced to accept less favourable terms than in their previous round, often at a lower valuation. This is defined as a down round.
Source: Beauhurst
Beauhurst tracked the percentage of up, down and flat rounds in the UK over the past few years, and found indeed that Q2 2020 saw a record percentage of down rounds: 15% of announced deals had a lower valuation than their previous round.
It wasn't all bad: the past quarter was still among the top five ever by average valuation, with the average UK business valued at £24.2m.
Source: Beauhurst
This was largely driven by growth-stage companies (which other sources would probably label as Series A+), which naturally have higher valuations than their Pre-Seed or Seed counterparts, which Beauhurst labels as "Seed" and "Venture" respectively.
Venture-stage businesses actually saw an uptick in average valuations, jumping from £9.6m to £13.7m, while Seed-stage didn't see much of a change, decreasing by just over half a million from £3.57m to £3.02m.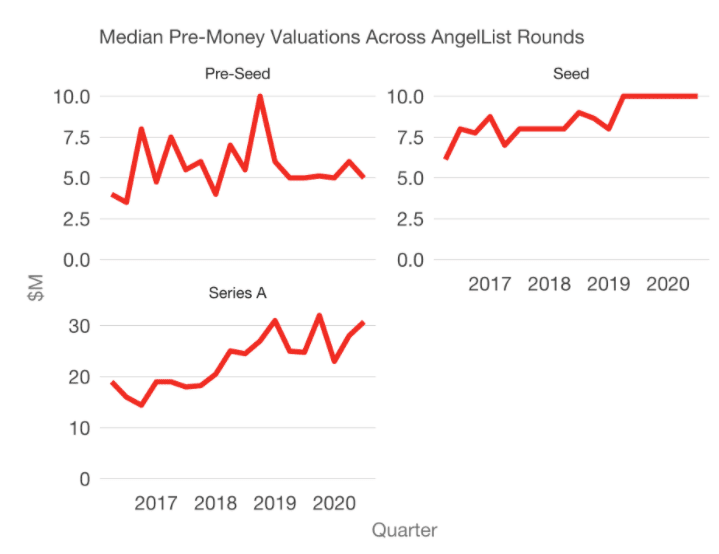 Possibly more than average valuations, however, it's important to look at medians. AngelList Venture data (, reported by Tomasz Tunguz, show that businesses from Pre-Seed to Series A didn't see much change in median valuations.
It must be noted that AngelList data does not have geographical constraints, while Beauhurst only refers to the UK market.
According to AngelList, the median Pre-Seed valuation last quarter was $5m, slightly down from 6m in Q1 but in line with 2019 levels, Seed-stage stayed flat at $10m while Series A went slightly up, approaching $30m in median valuations.
Some reports paint an even more positive picture, like Silicon Valley lawfirm Wilson Sonsini, which reported an uptick in median valuation across all stages, using deals within their portfolio as the sample.
Source: Wilson Sonsini Goodrich & Rosati
With such discrepancies between sources, it can be hard to draw actionable conclusions and extract trends from investment data. In the words of Tomasz Tunguz:
"I'm reminded of the five blind men and the elephant. Some data sources show the trunk, others the belly, and others the tail. In a few quarters, we'll understand the true nature of market perturbations triggered by COVID. But today, we're still sketching out the nature of the beast."
What is interesting to see, is that while many predicted a drastic fall in valuations, the data doesn't show more than a mild correction from previous levels.
This could mean that while some sector and companies in particular took a bad hit during the lockdown period (i.e. Monzo), VCs are still willing to invest on good terms, and likely not taking advantage of the situation to bargain larger stakes at a lower price.
The information available on this page is of a general nature and is not intended to provide specific advice to any individuals or entities. We work hard to ensure this information is accurate at the time of publishing, although there is no guarantee that such information is accurate at the time you read this. We recommend individuals and companies seek professional advice on their circumstances and matters.