Patchwork Health – $20m Series B fundraising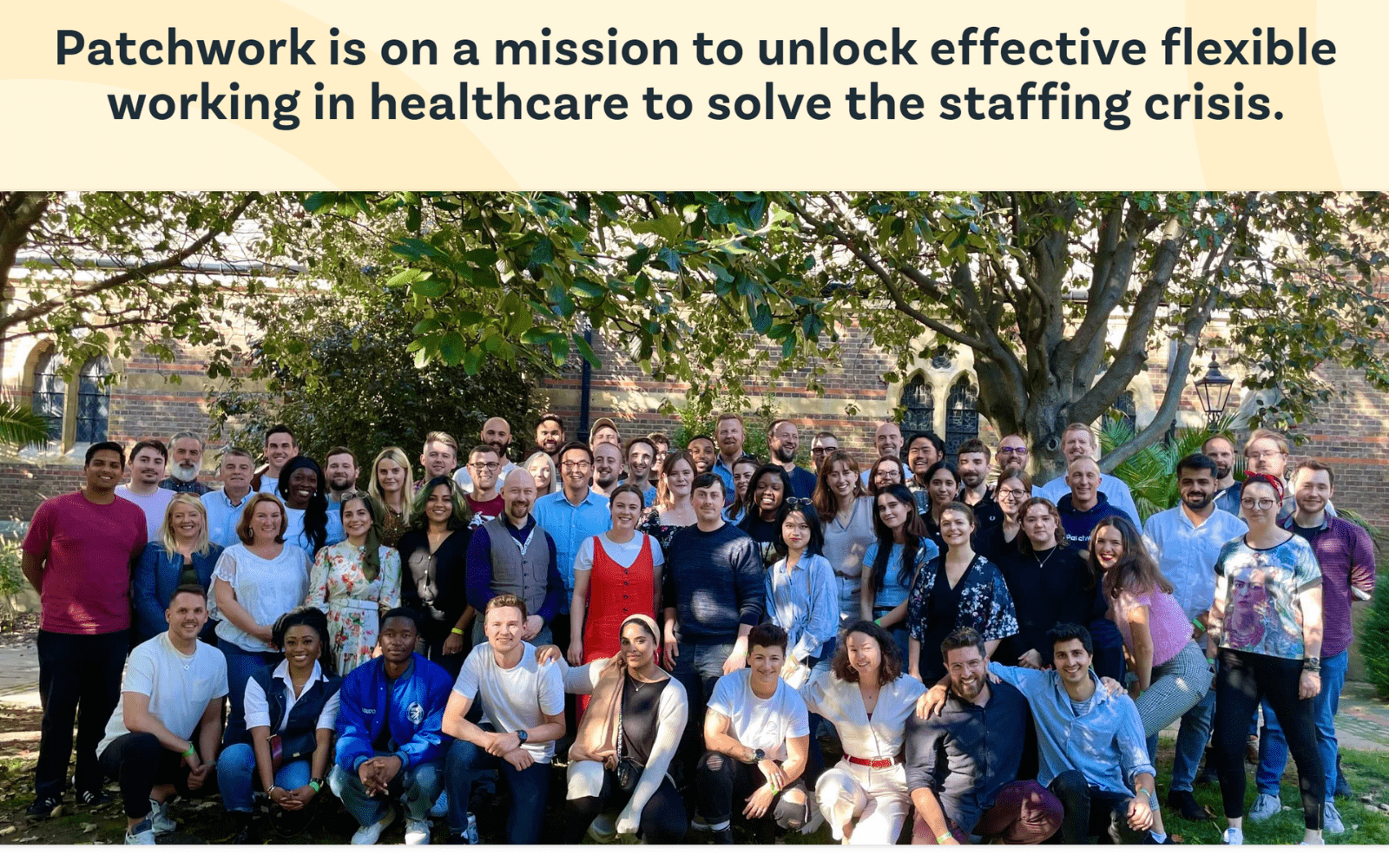 Last month, London-based healthcare staffing firm Patchwork Health raised £20 million in their Series B funding round to develop its NHS staffing platform.
The Series B round was led by Perwyn, with further backing from existing investor Praetura Ventures, KHP Ventures, and a host of angel investors, including Monzo founder Tom Blomfield and Social Chain co-founder Dominic McGregor.
Patchwork Health was founded in 2016 by NHS Medics, Anas Nader and Jing Ouyang. It provides tech-powered solutions and allows NHS teams to manage their permanent and temporary workforce through a fully-integrated platform.
The platform allows NHS organisations to access a pool of temporary staff that can be custom selected to meet specific demands, supported by data analytics to help NHS managers monitor staffing trends and pay rates. For jobseekers, the platform allows specifying personal needs and preferences for staff rotas.
Patchwork Health is behind the largest collaborative staffing bank in the UK, having brought 24 organisations in the North West together to help ease staffing pressures in the region.
The staffing crunch is at its peak in the healthcare sector in the U.K. Nearly half of NHS staff have reported feeling unwell as a result of work-related stress in the last 12 months and 1 in 5 have said they are likely to leave their organisation in the next year. This crisis comes against the backdrop of record waiting lists, with 6.6 million people waiting to start treatment.
Staff shortages in the healthcare sector have made it ripe for startups to 'platformize' the problem.
"NHS staffing isn't working for NHS staff, but it can be fixed with the right tools," claims Patchwork co-founder and CEO Dr Anas Nader. "Our solution gives the NHS the power to make this sustainable staffing a reality, whilst improving staffing levels and safeguarding the quality of patient care."
"The traditional way of staffing our NHS is outdated and is contributing to the pressures our health service is facing," said Martin le Huray, a partner at Perwyn.
Daniel Dickens, Co-Managing Partner at KHP Ventures, comments: "As an early-stage fund anchored by one the UK's largest healthcare systems, it was a natural fit to support two brilliant clinical entrepreneurs in Anas and Jing, and their talented team, to scale a platform that addresses one of the biggest challenges facing the NHS. We were incredibly impressed with their roadmap and traction to date, and look forward to working with Patchwork's team and our partners to help accelerate their growth and impact for NHS staff and patients."
Previously, Patchwork Health raised £3m in a Praetura-led funding round in February 2020.
The information available on this page is of a general nature and is not intended to provide specific advice to any individuals or entities. We work hard to ensure this information is accurate at the time of publishing, although there is no guarantee that such information is accurate at the time you read this. We recommend individuals and companies seek professional advice on their circumstances and matters.