Open Up 2020 Challenge Finalist Kalgera Awarded £100k By Nesta
Our client Kalgera was among the fifteen Fintech start-ups to secure funding to develop innovative solutions that use open banking to transform how people across the UK manage their finances, as of last week.
From saving and budgeting, and debt support to mortgage affordability, the Open Up 2020 Challenge aims to address some of the longstanding financial issues faced by the UK population.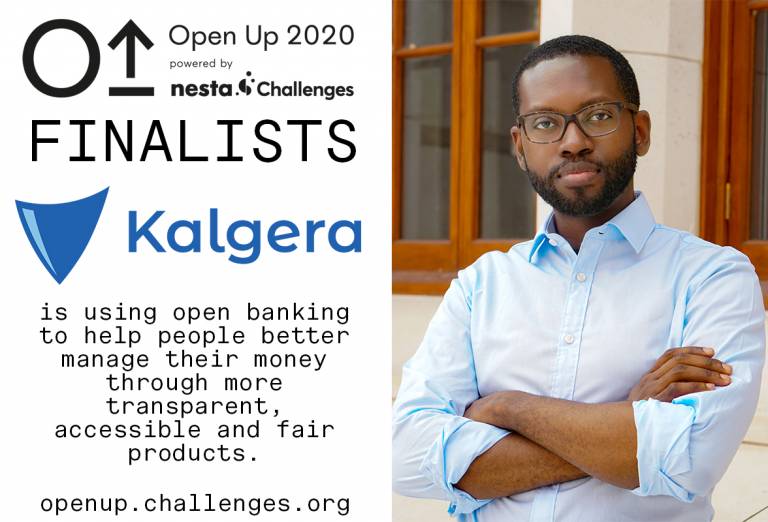 Run by Nesta Challenges, in partnership with Open Banking Limited (OBL), the prize has awarded each of the fifteen solutions £50,000 of the £1.5m prize pot. Three of them, including Kalgera will also receive an additional £50,000 based on their solution's emphasis on financial inclusion, such as addressing financial wellbeing for the elderly and vulnerable.
Over the next eight months, the finalists will work with Nesta Challenges and OBL to develop their solutions, also receiving non-financial support including marketing, business mentoring and service design. Between three and four finalists will go on to be named winners in July 2020, receiving a further £150,000 – 200,000 each to invest in their idea.
All the solutions use open banking data to help their users better manage their financial lives. This includes gig economy workers, who are trying to manage the peaks and troughs in their finances, millennials and Gen Z's who are trying to get on the property ladder or save money, and others who may wish to see their charitable donations in one place.
Research conducted to mark the launch of the Open Up 2020 Challenge found millions of people across the country are currently struggling to stay on top of their finances. One in three (29%) regularly run out of money each month – equating to around 15.2 million people – and half (48%) of people would like new tools and apps to help them manage their money.
Chris Gorst, Director of Challenges, at Nesta Challenges, said: "Whether it is gig economy workers, 18-35 year olds, or more vulnerable groups, millions of people across the UK are struggling to keep on top of their finances. The financial services sector has been slow to respond to society's evolving needs, whether it's better serving the UK's renters, fraud prevention for the vulnerable, or helping those with an unpredictable income manage their finances and get a mortgage.
"The Open Up 2020 finalists are addressing these issues – and more – using open banking to make it easy for people to overcome some of the real-life issues they are dealing with every day. Among other areas, the solutions have the potential to change the UK's rental market, help people avoid expensive or unnecessary debt, and allow young people to save and proactively find people the best deals. We see this as the start of a big consumer-friendly shift in financial services."
Imran Gulamhuseinwala OBE, Trustee of the Open Banking Implementation Entity, commented: "We were extremely impressed by the high calibre of the entrants to Open Up 2020. It was tough to select the finalists, but we are confident that the fifteen going on to the next round have strong and innovative products and solutions that will help revolutionise how we all manage our money and finances. Open banking has huge potential to improve our relationship with money, and Open Up 2020 is a vital component in ensuring that the UK continues to be developing innovative open banking-enabled products."
The information available on this page is of a general nature and is not intended to provide specific advice to any individuals or entities. We work hard to ensure this information is accurate at the time of publishing, although there is no guarantee that such information is accurate at the time you read this. We recommend individuals and companies seek professional advice on their circumstances and matters.