European VC Deals Slump In First Half
Venture capital (VC) dealmaking activity plummeted during the first half of 2023 as tough economic conditions endured, PitchBook says in its latest European Venture Report.
The financial data company states that the decline reflected "a shift in the macroeconomic environment as higher interest rates, high inflation, a closed [initial public offering] exit window, and tough fundraising conditions have all been significant decelerators to growth and dealmaking in the VC market."
Dealmaking and fundraising have continued cooling of late, the firm says, while investors have also turned away from exiting unprofitable businesses through initial public offerings (IPOs). Instead, venture capitalists have chosen to work with their startups to restructure in-house and to extend their capital runways as far as possible.
It notes that "this has shifted company strategies from growth at all costs to prioritising cost management, which has translated into layoffs and hire freezes across the entire startup ecosystem."
Deal Value Topples
PitchBook says that total VC deal value slumped 60.8% year on year between January and June, and 34.2% from the second half of 2022.
Deals that ranged between €500,000 and €1 million slumped by almost two-thirds (65.9%) during quarter two, it says, while deals below €500,000 dropped by 64% year on year. Deals ranging between €10 million and €25 million in value collapsed by 39.1% over the period.
The subdued dealmaking environment has seen investors gravitate towards megadeals in the last quarter, PitchBook says, with follow-on VC investments becoming especially popular.
It notes that food deliver app Getir was involved in one of the largest funding rounds in the second quarter. It raised €435.5 million from Mubadala Investment Company at a pre-money valuation of €5.7 billion. This followed the €690.7 million it raised from the same investor a year earlier at a pre-money valuation of €9.9 billion.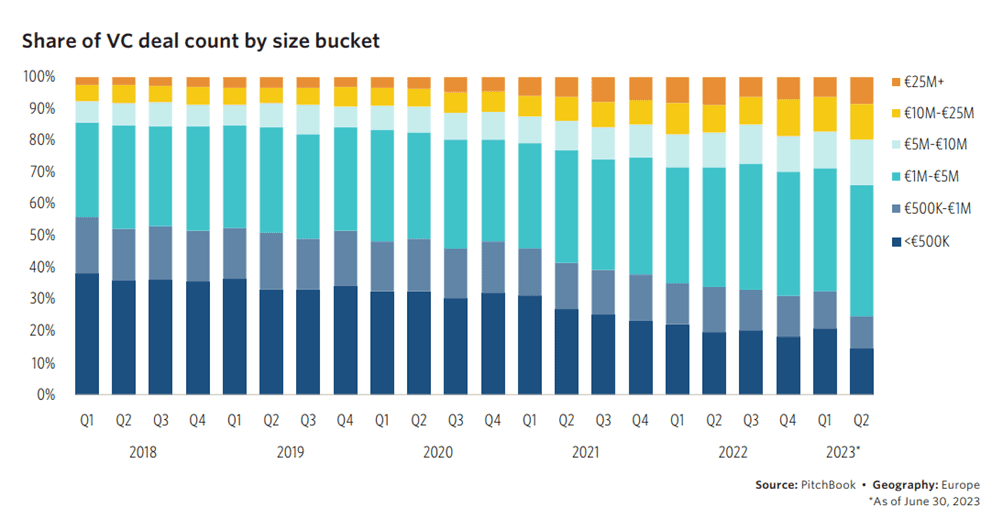 PitchBook notes that VC deal counts have increased amongst businesses venture-growth and late stages as they have gained share from those at the angel and seed stages. Moreover, the median deal size continues to increase and currently stands at €2.1 million for 2023. Average deal sizes have dropped meanwhile owing to that shift towards larger deals.
Software Softness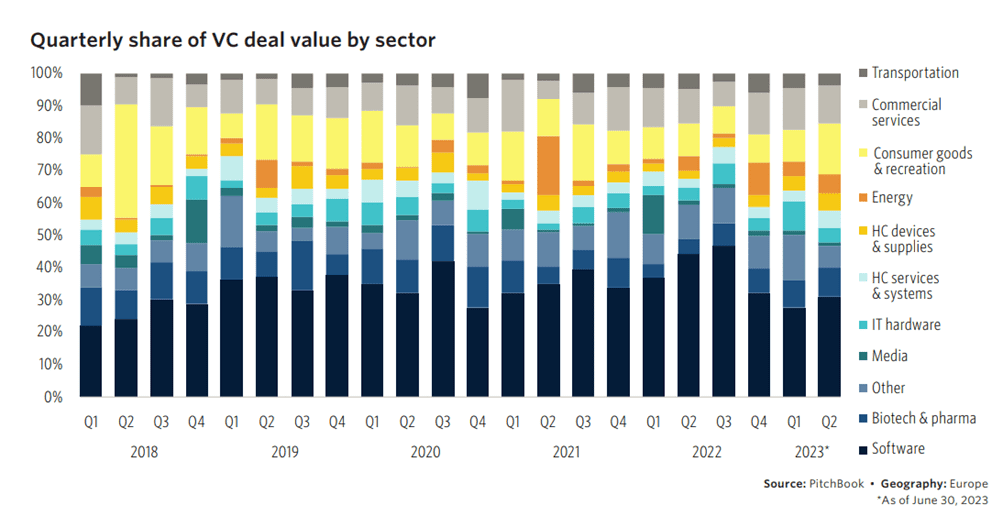 PitchBook says that the landscape has been especially tough for software companies following the boom of recent years. It says that "just as the dot-com bubble reset the sector in 2000, we are seeing a similar reset from the bonanza of deals in 2021 and 2022."
Software deal value slumped 71.8% year on year during quarter two, its data shows. That was more than any other sector. PitchBook says that software startups went from representing 40.2% of deal value in 2022 to just 29.3% this year.
However, it suggests that young companies with a focus on artificial intelligence (AI) "may see significantly more dealmaking in future quarters given the recent investment boom in the space." Earlier data showed investment in generative AI businesses hit $1bn last year.
Exit Activity Keeps Slowing To Decade Lows
VC exit activity also continued to plummet during between January and June, PitchBook says. Total exit value came in at €3.5 billion, a run rate that implies the total in 2023 will be a whopping 82.2% below last year's value. Exit count in the year to date meanwhile is 10.4% below those recorded in 2022.
The company says that "one of the greatest challenges within VC markets has been the recent haircuts given to portfolio company valuations," a phenomenon that "has led to declines in exit values, where asset prices remain depressed regardless of strategy."
Exit value also continues to decline on a quarterly basis. A figure of €900 million for quarter two represented a 64.9% decline from the previous three-month period.
Conditions In Europe To Remain Difficult?
On a brighter note, PitchBook has suggested that the broader VC market could begin to improve in the coming quarters.
It says that "private markets often lag public markets by a few quarters" whilst noting that stock markets have already gained ground in recent months. This is thanks to signs that the Federal Reserve is nearing the end of its programme of interest rate hikes.
But the data company says that VC conditions in Europe might remain difficult in 2023. It notes that "the European monetary tightening cycle may continue for longer given that inflation has been persistently high in the UK and in the eurozone." It adds that the ongoing war in Eastern Europe is adding extra upward pressure to inflation gauges.
The information available on this page is of a general nature and is not intended to provide specific advice to any individuals or entities. We work hard to ensure this information is accurate at the time of publishing, although there is no guarantee that such information is accurate at the time you read this. We recommend individuals and companies seek professional advice on their circumstances and matters.