The 5 Levels of Remote Working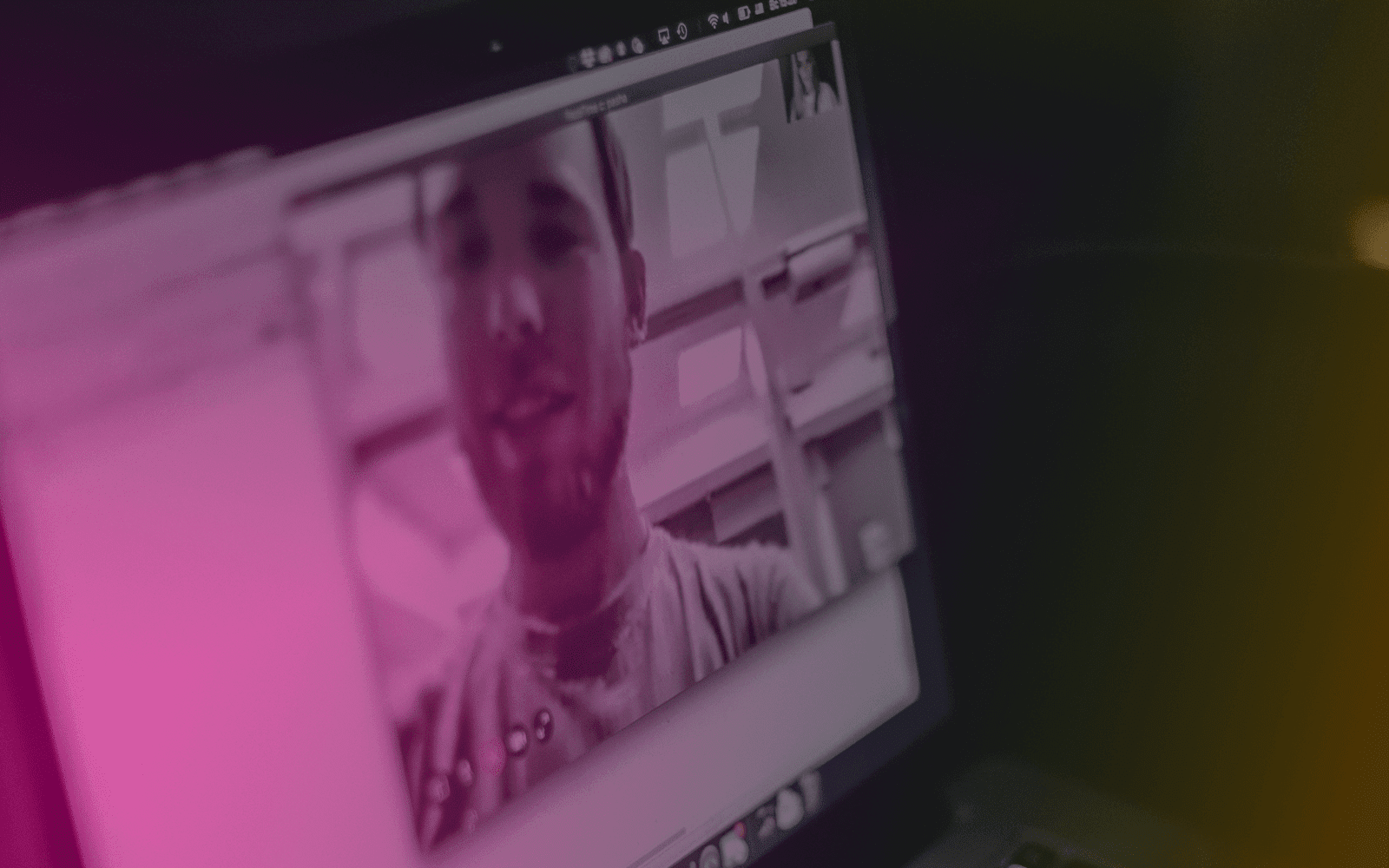 Our communications advisor Joe Pelissier and his team have been working 'remotely' for many years. As the pandemic forces anyone who can to do the same, many of us had to change their habits and are struggling to readjust. In this blog, he uses Matt Mullenweg's 5 Levels of Remote Working model to explain how we are going to adapt to this new normal, and even thrive in it.
If you're interested in Remote Working with Distributed Teams, you should register for our Webinar with Joe this Friday 24th April at 2pm.
I don't particularly like the term 'remote working'. It has negative connotations and implies that if you are remote you are distant and not connected. Therefore, you're not capable of working efficiently and productively.
The Italians use the term 'smart working' which is far better. It automatically focusses the mind on working more efficiently and effectively.
Last month the neuroscientist and author, Sam Harris, interviewed the tech entrepreneur Matt Mullenweg in his Making Sense in podcast. The conversation was called 'The New Future of Work' and what Mullenweg talked about has fascinating implications for how organisations approach remote working after the Covid-19 pandemic.
If you use WordPress then it is Matt Mullenweg's company, Automattic that's behind it. In 2005, his business was conceived as a distributed organisation and now has c. 1,200 employees working across 75 countries.
Given that his technology directly influences how so many of us use the internet, his insights and opinions are worth paying attention to. In particular, what he describes as the 5 Levels of Remote Working.
5 Levels of Remote Working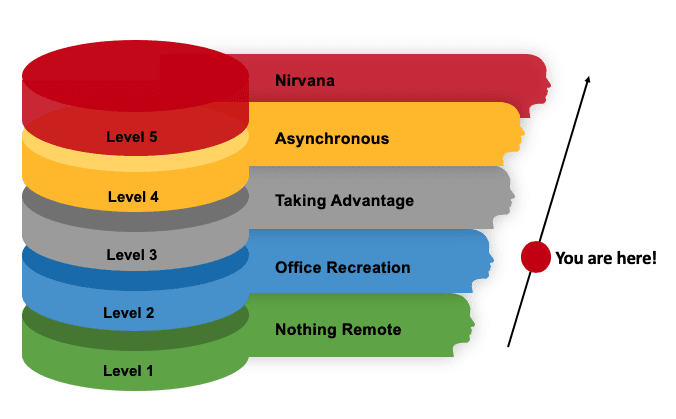 What follows is my own understanding of the levels combined with first-hand experience of how various brands are operating at them.
Level 1: Nothing Remote
This is when the organisation has done nothing remote. Either because it doesn't believe it will work for 'our type of business' or because the directors cannot conceive of a world in which employees are not physically visible.
For some companies at Level 1, the Covid-19 lockdown is their worst nightmare. They only started to allow employees to work from home because their governments insisted. Many of them suffer from 'if I can't see you how do I know you are working?' syndrome.
Invariably companies at Level 1 don't trust their employees, something that is usually reciprocal. Not a good place to be.
Level 2: Office Replication
This where the vast majority of businesses are. Their instinct is to replicate the 9 – 5 way of working but in a remote context. This is a natural reaction, albeit a flawed one.
This is because working from home during a Covid-19 lockdown is a far cry from real remote working when issues such as schooling and IT are already in hand.
What happens are numerous meetings, often via a recently opened Zoom account. Managers and others then just hop from meeting to meeting, often with the instance that everyone switches their camera on.
There are so many meetings that everyone finds it hard to get real work done, to find time to eat and to properly switch off. This is because mangers are trying to replicate synchronous thinking which dictates "when I am working you must be working too".
However, effective remote working is asynchronous and requires a different mindset. This is the one that begins to manifest itself in Level 3.
Level 3: Taking Advantage
Over a period of time, everyone starts to get a sense of what tools are needed and how best to use them. Managers begin to realise there is a need to invest in the right technology as well as better remote working skills. i.e. writing skills
Google Docs are used in which someone takes the notes during the call in real time. Miraculously, it means that everyone really is on the same page.
Not every call is a video one and in audio calls participants start to learn that it's good manners to wait for others to finish rather than interrupt. Mangers realise that it is possible to schedule work around childcare needs or that some members of the team are night owls and others are larks.
Depending on whether you have a fixed or a growth mindset Level 3 is either an alarming or incredibly exciting place to be. It's a powerful insight into what work could be like for your company post Covid-19.
Level 4: Asynchronous
This when you appreciate the rewards that come with allowing employees to have the autonomy to manages their own time, work schedule and work /life balance.
So long as everyone is clear on what the deliverables are and by when, you are liberated from 9 – 5 thinking as well as command and control. What matters is is the quality of the output not when someone is creating it.
Matt Mullenweg suggests that whilst asynchronous work may mean that some decisions take longer, they tend to be better. This is because there is less of a rush to make the decision.
An asynchronous company is also free to recruit from a global talent pool. Why only employee people in only your own country when you can tap into international excellence and take advantage of a 24-hour work cycle?
Level 5: Nirvana
Enlightenment may take many years but once you reach remote working nirvana you have teams who are masters of what they do, autonomous in how they do it and with a sense of purpose in why they are doing it.
This all leads to a productive and contented workforce as well as a business that has the potential to be profitable and successful.
What happens next?
Mullenweg's model is a very high-level but powerful way of understanding the potential of remote working.
Going forward you need to ask yourself:
Can I realistically go back my pre-Covid-19 way of working or running my business?
What have learned about remote working that I can develop and grow?
What does the Covid-19 lockdown tell me about my business-readiness to work remotely?
What are the tools and technologies I need to invest in?
What have I discovered about the written and spoken communication skills of my team and how can I develop these?
Am I going to embrace remote working as viable way of future-proofing my business?
Clearly, Covid-19 has changed the way we all think about how we work and engage with others. However, if the 5 Levels of Remote Working is a model for the future, as I believe it is, we all have a responsibility to explore what it means personally and professionally.
Remote working is here to stay
Over the next few months, businesses are going to need advice and help in how to develop their remote working capability. Together with associate, Jeremy Blain, I offer a range of remote working services and courses.
These cover executive coaching and mentoring, remote working communication audits and virtual classes to develop skills and ability.
Isn't that fascinating? We're hosting a webinar with Joe this Friday 24th April 2020 about Remote Working with Distributed Teams. Joe will explain in detail this and other techniques to make the most of WFH, as well as take questions on anything remote. Register now.
Register for the Webinar
The information available on this page is of a general nature and is not intended to provide specific advice to any individuals or entities. We work hard to ensure this information is accurate at the time of publishing, although there is no guarantee that such information is accurate at the time you read this. We recommend individuals and companies seek professional advice on their circumstances and matters.