How Key Person Dependency Affects Your Exit Valuation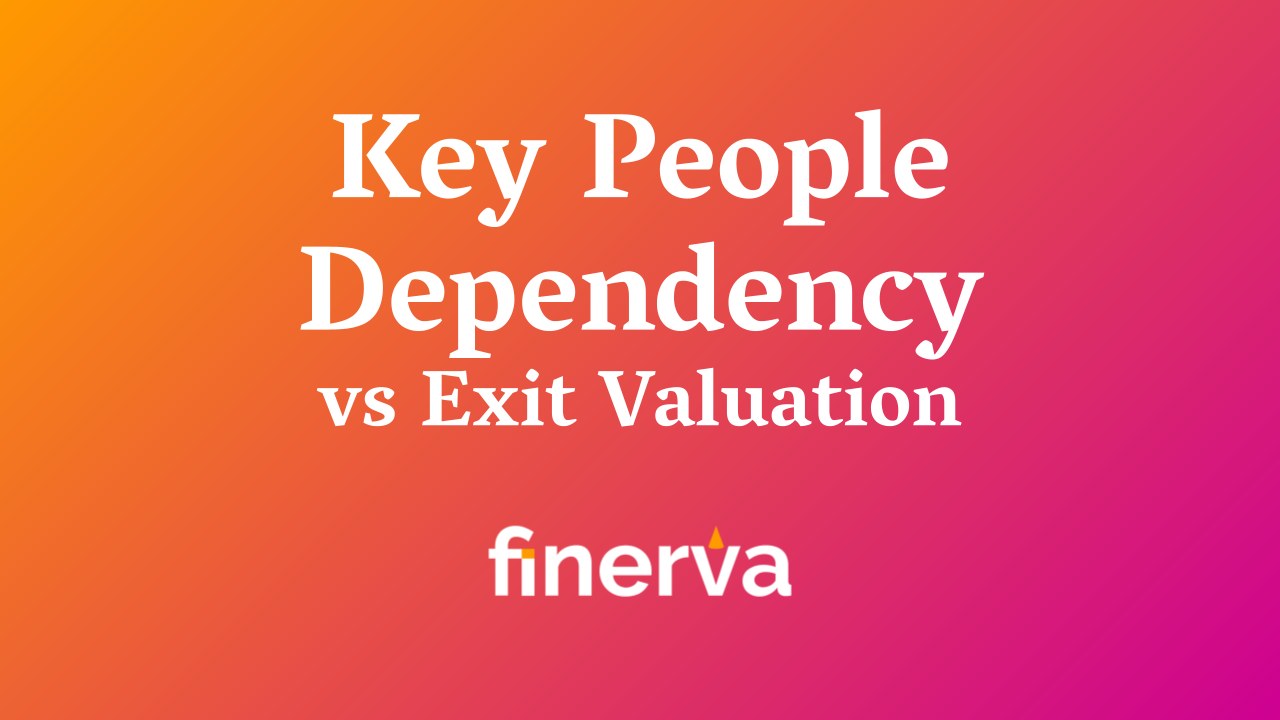 Key person dependency is when one or few individuals own knowledge, experience, skill or reputation that make that person irreplaceable to the business activities and its performance. These are often members of the founding team, or senior employees that have specific technological or creative knowledge within the company.
Key person dependency must be kept under control at all times, as it represents a risk factor to the business.
According to Financial Management Magazine, the three main characteristics of key person dependency are the following:
They relate to company strategy and have a direct impact on the effectiveness of strategic implementation.
They exhibit high variability in the quality of the work carried out by the people who occupy them.
They require unique, company-specific know-how, tacit knowledge, and industry experience that cannot be easily found in the external labour market.
Why key person dependency matters during an exit
Because most M&A deals involve some level of change in the higher management team, assessing your company's key person dependency will be at the forefront of the buyer's due diligence.
The specifics will vary from one deal to the other, for example some executives may be made redundant during a merger (often in back-office functions, like finance and legal), some members of the founding team or employees who hold share options in the companies may use the exit as an occasion to liquidate their shares (stock) and leave the company, some employees may simply not like the direction of the company after the deal.
In all of these scenarios, key person dependency constitutes a risk for the buying party by threatening to disrupt the business's operations after the deal has closed if some key talent from the original company is lost.
It's important to be aware that key person risk is often addressed by a buyer through "lock-ins", "rolling of equity" as well as long-term incentives for key managers, and earn-outs or deferred consideration for owner-managers.
How to mitigate your company's key person dependency risk
Identify and document critical knowledge of the organisation
Capturing each individual's knowledge and ideas and recording them is never straightforward; any manager who has had to deal with a handover from a leaving employee to a new hire knows this. However, a diligent application of this principle will help you ensure that key operations within the businesses are not strictly tied to specific individuals
Provide cross-training and ensure succession planning
Sharing individuals' expertise and know-how with the wider team might help to mitigate your key person risk by extending their knowledge to peers. A succession plan enables smooth transitions once an employee moves on. Finally, promoting in-house hiring should help show a track record of employee retention.
Outsource when possible
Outsourcing specific expertise to support key people within the company does not only have the benefit of efficiency and additional capacity provided by an external team of experts. It also helps you reduce your key person risk by providing a reliable fallback without additional HR costs. While this is not a substitute for diligent succession planning, it can come in handy where specific know-how is hard to find internally.
Invest in technology
Technology and automation often allow business processes to become more cost-efficient, transparent, and time-saving, allowing employees to focus on areas that require soft-skills, like strategic planning and customer experience. Many processes can be automated using software systems (think Customer Onboarding, Sales Operations, Accounting & Finance) which in itself provide an intrinsically more structured process that is easy to transfer from one employee to another, therefore reducing key people dependency.
Keep good records of your operations and HR practices
Regularly and diligently compiling documents outlining best practices, succession planning, training, HR notes will help speed up the due diligence process.
Identifying and managing key person risk can be a difficult process, especially for scale-ups with a strong founding team. However, any company that depends too highly on a few key employees is at higher risk of losing their know-how and skills. This risk is inevitably going to be a valuation detractor once the buyer realises these shortcomings during the due diligence process.
Therefore, it is essential that founders set objectives to review the business's operations and strategy to start planning how to mitigate their key person dependency risk.
The information available on this page is of a general nature and is not intended to provide specific advice to any individuals or entities. We work hard to ensure this information is accurate at the time of publishing, although there is no guarantee that such information is accurate at the time you read this. We recommend individuals and companies seek professional advice on their circumstances and matters.